This article will show you how to create a package with more than one service or a choice of services.
In this Article
Packages allow you to combine multiple services making it easier for your clients to book multiple services.
Creating a Package
Click on Manager > Services > Packages > Click Add to begin creating a new Package.
Give your new package a Package Name, choose which Service Category it appears under, then check whether or not the package Can be Booked Online.
Note: These can all be edited later if needed, so if you're practising creating a package then don't allow it to be booked online initially. You can then test booking it in your calendar yourself, and enable online booking later once you're ready.
Click Add Service to begin adding services to your Package.
You can add multiple Services to your Package by adding one Service, then click Add Service again to add more.
Package Duration
The total Package duration will be determined by the total duration of each Service in the package.
Room/Machine Allocation
Services will follow the same Room/Machine assignment they would usually have when booked alone. For more information on assigning Rooms/Machines to Services, check out this guide.
---
Adding Price Levels
You can add different price levels to your Package by double-clicking a service within the package, and then clicking Per Staff.
Select the Staff Category from the dropdown, and use the + button to add multiple price levels if needed. Click OK to finish, and remember to click Save once you've finished creating your Package.
---
Adding a Choice of Services
You can allow clients to pick from a list of Services if you like. 
To do so, when adding a Service, click the + icon to add more services to the list of choices.
When you're finished adding all of your Services, click Save to finish.
How Choices Look in Online Booking
When clients go to book a Package with choices online, here's how it will look: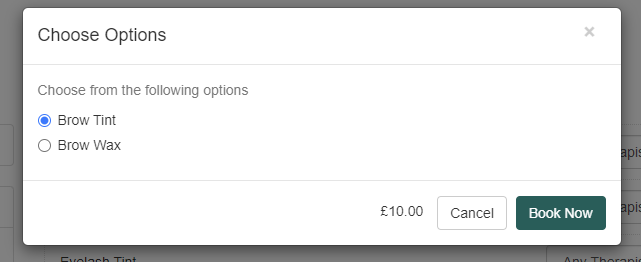 ---
Primary Service Checkbox
The Primary checkbox decides which staff members should be listed in the staff choice dropdown list when booking the Package in online booking, and it also has an effect on a client's Preferred Staff Member.

Staff members will be listed in the online booking staff choice dropdown menu for the Package provided they can be booked for the Primary service.

If a client chooses a staff member from the list when making a booking, and they do not currently have a Preferred Staff Member listed on their client card, then the staff member they choose will be added as their preferred staff member. If the 'Any' option is chosen then no preferred staff member will be added.
When creating your package, a service will automatically be chosen as the Primary service based on default rules, prioritized in the order they are listed below. You can choose to override this by manually picking a Primary service yourself.
The default primary service is selected if:
A service is added to the package, where the service is from a Service Category that has an online category of Cut + Styling
If the above is not true, the default Primary service will be the most expensive service.
If the above is not true, the default Primary service will be the longest duration service.
If no Primary service is chosen, then the staff dropdown will not be displayed for that Package in your online booking menu, and a staff member will be booked at random when clients book an appointment.
  Want to Create a Package for a Group Booking?
You can also create a multi-person package to allow for 2-for-1 specials, couples offers, etc. To find out how, check out this guide.