This article will show you how add a patch test notification to a service, which will remind both your staff and your clients to get a patch test prior to attending their appointment.
Some services will require a patch test, and with Phorest you can set yourself a prompt to remind you when this person books in.
The patch test will then need to be recorded manually on the client's record card (click here for details on how to do this). It is worthy of note here that the system will only guide you with regards to patch testing, it will still allow you to check a client in and pay for a service, even if you have recorded a failure on a patch test. It is the responsibility of the salon to ensure client safety.
---
Go to Manager > Services, then click on the name of the service you wish to add a patch test prompt to.
Change the Patch Test setting to Yes, then click Save to finish.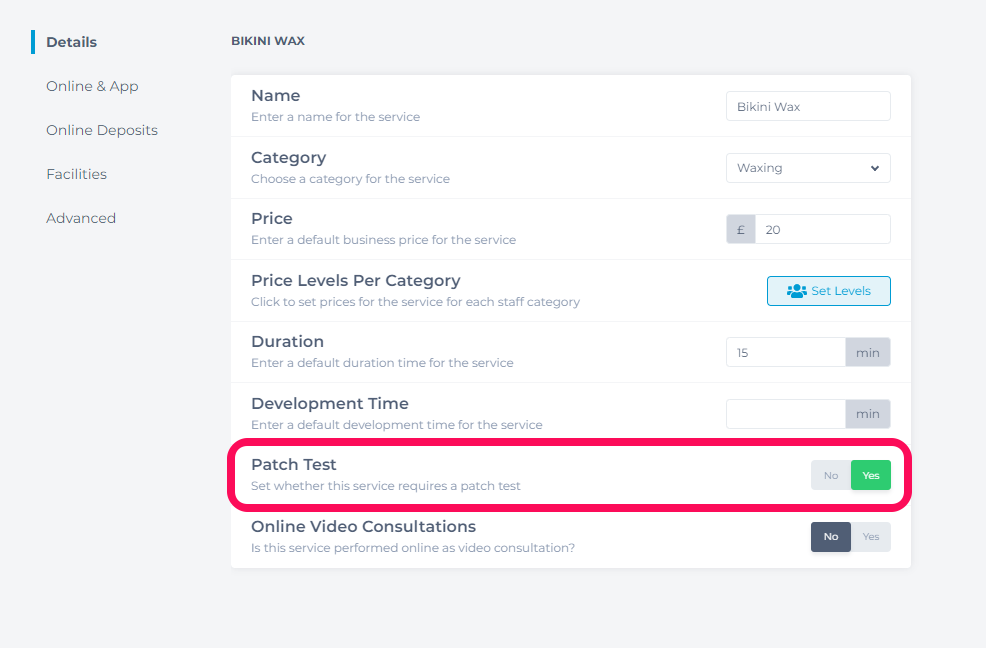 When booking the service on Phorest, staff members will see the following notification, and can then create a patch test on the client card if necessary.
When a client books this service online they will receive the following notification if the appointment they are booking is outside of your Patch Test period.

Or they will receive the following notification if they try to book an appointment within your Patch test period.

Your Patch Test period can be configured by going to Manager > Settings > Online > Booking Rules. By default, this is set to 24 hours.