This article outlines where to set data retention dates to be GDPR compliant.
Data regulations (such as GDPR) in your region may require you to forget clients' personal information after a certain amount of time if they have not visited your business.
In Phorest, you can set a data retention period, which means any personal information relating to clients who have not visited your salon within a certain time period will automatically be deleted from your client database.
Typically, this date period will be provided by your insurer.
This is a permanent process and cannot be undone, unlike the Archive feature which can be reversed.
To set a data retention period, go to Manager > Settings.
Under General, go to Client Setup, then use the dropdown menu under Data Retention to choose your preferred setting, and click Save to finish.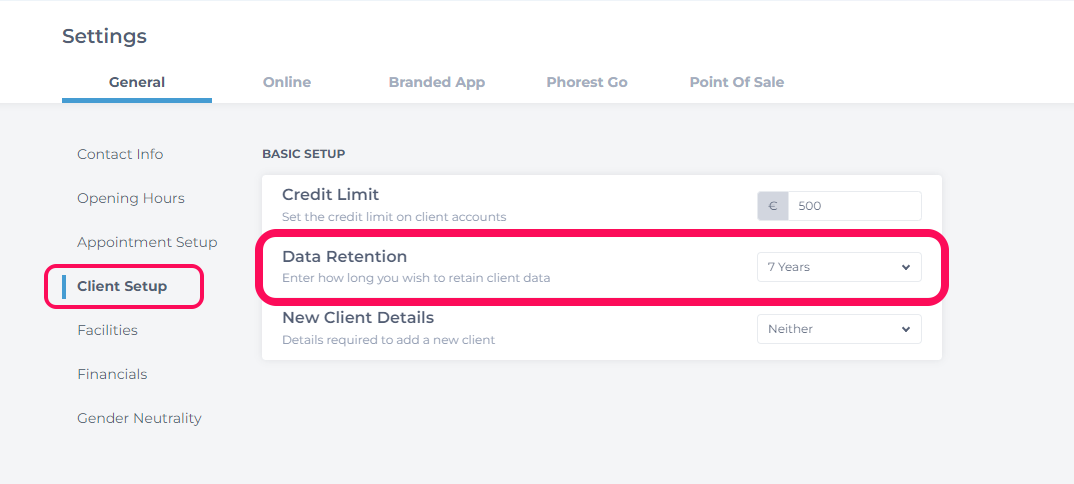 Phorest will now automatically forget the personal data of any clients who haven't visited your business within your data retention period.
Note: This will not remove any financial or transactional history from your reporting. Instead, any reporting figures relating to forgotten clients will be labelled as anonymous.
Manually Removing Client Personal Data
You can also manually 'forget' a client's information if a client makes that request at any point. Click here to find out how.