This article will show you how to turn on the automated appointment Reminder SMS.
This article covers how to set up an automatic appointment reminder SMS. If you want to set up the automatic appointment reminder Email, check out this guide.
Video Guide
---
Step-by-Step Guide
Go to Marketing > Reminders > Reminders.

Use the tabs at the top of the screen to navigate between your SMS Reminder and your Email Reminder.

Within each section, you can assign the Time you would like your reminders to send, and you can choose how many Days In Advance of the client's appointment you would like the Reminders to be sent on. 
In addition, you can edit the content of the reminder at any time. Simply update the template, then click Save to ensure the changes made are confirmed.
You can use the Macro buttons at the side of the screen to automatically add client information, appointment links etc., to each Reminder automatically. A Macro is a special piece of code that gets replaced with information specific to each recipient. For example, the <<Client First Name>> macro will be replaced with each recipient's first name.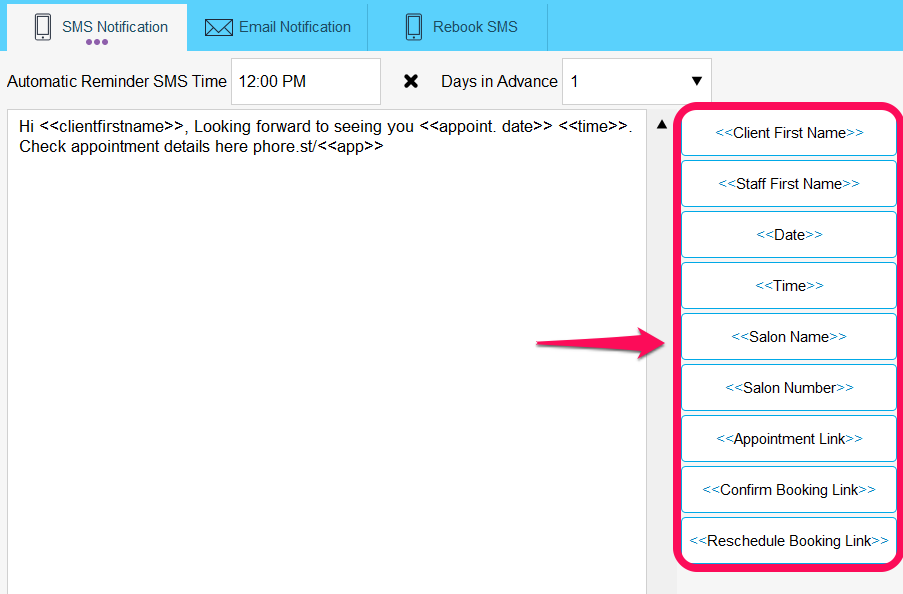 Note: The <<Appointment Link>> macro will not work if you have not enabled Online Booking. Both the <<Confirm Booking Link>> and <<Reschedule Booking Link>> macros will still work even if online booking is disabled.
---
SMS Character Limit
At the bottom of the SMS Notification template, you will see an SMS counter. An SMS count of 1 means you will be charged 1 SMS for every reminder sent. An SMS count of 2 means you will be charged for 2 SMS for every reminder sent and so on.
SMS technology has a limit of 160 characters per message, and your SMS count increases by 1 for every 160 characters in the message. Each SMS sent is charged at your standard SMS rate.

---
 Appointment Reminders Content Disclaimer
It is important that your Reminder email/SMS does not contain any marketing/promotional content. For more information on transactional vs marketing messages, click here.