This article will show you how you can still process a payment through PhorestPay in the event that your Card Terminal loses connection to the internet and goes offline.
If your PhorestPay Card Terminal loses connection, you can attempt to get it back online by restarting the Card Terminal. To restart, hold down the power button, then press Restart.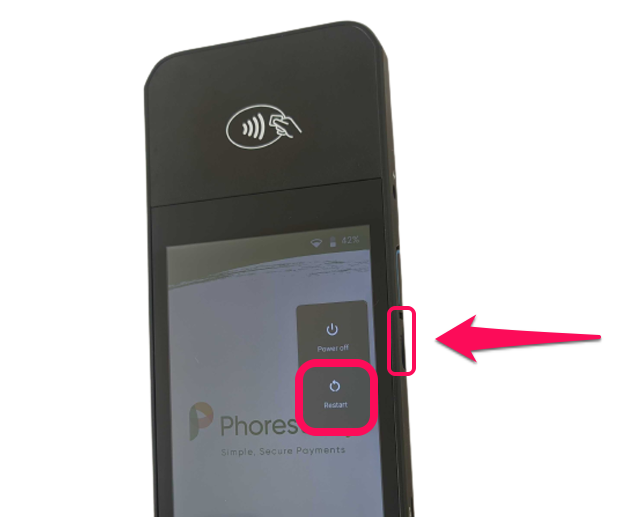 Once the Terminal has restarted, confirm that it is online by opening Phorest and going to Manager > PhorestPay > Settings > View Card Terminals.

If you have lost connection because your internet is having an issue, you can try restarting your internet modem/router by powering it off for 1-2 minutes and then powering it back on again.
---
Taking Payment While Your Internet is Down
If you urgently need to take payment while your internet is down, here are some ways you can do that:
Connect to a Hotspot Using Your Phone
You can use your smartphone to create a hotspot, which will allow your Card Terminal to use your phone's data signal as an internet connection.
 How to set up a hotspot using an iPhone
 How to set up a hotspot using an Android phone (Samsung, Google, Huawei etc.)
Connecting the Card Terminal to Your Hotspot
Once you have your hotspot turned on, swipe your finger in from the left side of your Terminal screen > Settings > Enter PIN 07139 > Network > Connect to your hotspot network (if asked for a password, this is the password that you set in your phone's hotspot settings).
Connect Your Computer to Your Hotspot
If your computer is also having internet connectivity issues, you may need to connect your computer to your hotspot. Click the Wi-Fi symbol on your computer, and the hotspot will appear as an available Wi-Fi connection.
Take Payment Using Phorest Go
Alternatively, instead of using your desktop computer to take payment, you can use Phorest Go to process the payment on your Card Terminal.
---
Take Payment Using the PhorestPay Virtual Terminal
If your Card Terminal has lost connection, but your internet is still working on your computer, you can use the PhorestPay Virtual Terminal to take payment.
Click here for a guide on how to take payment using the Virtual Terminal.
---
Take Payment Using a Stored Card (Cardless Checkout)
If your client booked their appointment online, or you have previously stored their card details, you can use the PhorestPay Cardless Checkout feature to take payment without needing the client's physical card to be present.