This article will show you how you can set your Consultation Forms to be sent to your clients automatically by Email and/or SMS a few days before their appointment.
 Feature in Testing
This feature is currently in testing and will be available soon. If you would like to become a tester of this feature, please email sonja.lorscheidt@phorest.com to register your interest in testing. 
In this Article
You can automatically send up to 2 messages (SMS & Email) to your clients before their appointments, with links to complete their Consultation Form.
How to Enable Auto Send
To enable auto-sending Consultation Forms, go to Marketing > Reminders > Consultation Forms.
Navigate to the Email Notification and SMS Notification areas at the left of the screen, then enable your settings > Choose how many days before an appointment each message should be sent > Click Save to finish.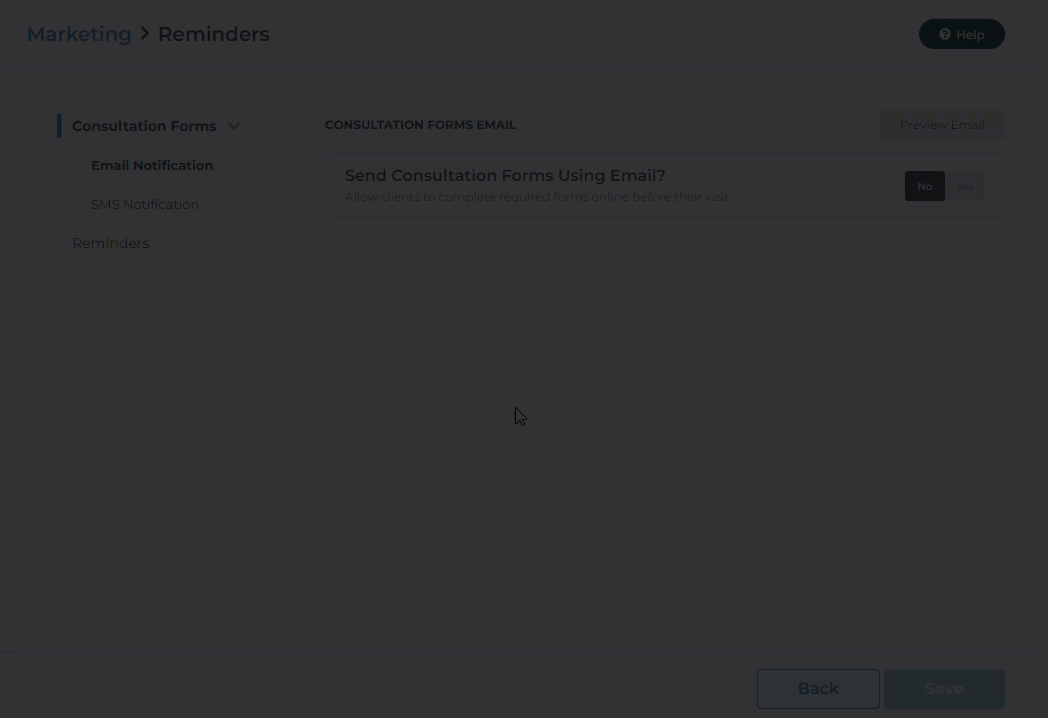 If you enable both SMS & Email notifications, choose to send them at different times, and the client completes the form before receiving the second notification, then the second message will not be sent.
Note: SMS Notifications are charged at your standard SMS rate.
You can use the Preview buttons to see what the message will look like

Note: The messages cannot currently be edited.
---
Recommended Sending Times
We recommend sending an Email Notification 5 days before the appointment and an SMS Notification 3 days before.
If your client completes their Consultation Form after receiving the first message, the second message will not be sent.
---
When is the Message Sent?
The message will be sent 'x' days before their appointment, approx. 90mins after the appointment start time.
For example, for an appointment on Friday at 12pm, a message sent 3 Days Before would be sent on Tuesday at 1:30pm. 
---
Appointments Before the 'Days Before' Schedule
If a client's appointment date is sooner than your Days Before conditions, you can still send the Consultation Form to the client manually.
---
Rescheduled Appointments
If a client received a Consultation Form message by SMS or Email and then rescheduled their appointment, another message will be sent to the client, provided their new appointment date meets your Days Before sending time (if not you can send the form manually) have not already completed the form. If they have completed the form, another message will not be sent.
---
How Can I Check if the Message was Sent?
Go to Clients > Search for and double-click on a client to open their Client Card > Email/SMS History