There are many different types of SMS that may be activated on your Phorest system. This article provides an overview of the different types of SMS that can be sent from your account.
AUTOMATED - TRANSACTIONAL SMS
MARKETING SMS
All SMS are charged at your standard rate. A standard SMS is 160 characters. If you exceed the character limit, you will be charged for each additional 153 characters. This is considered a 'Long SMS'.
Automated - Transactional SMS
1. Reminder SMS
Appointment Reminders are a really useful way to reduce No-Shows. In fact, 62% of no-shows occur simply because clients forget when they're booked in for. When you send an appointment reminder, you radically reduce that number.
To enable/disable Reminder SMS in Phorest, click on Marketing > Reminders > SMS Reminders.
More info: How do I set up the Review Email or SMS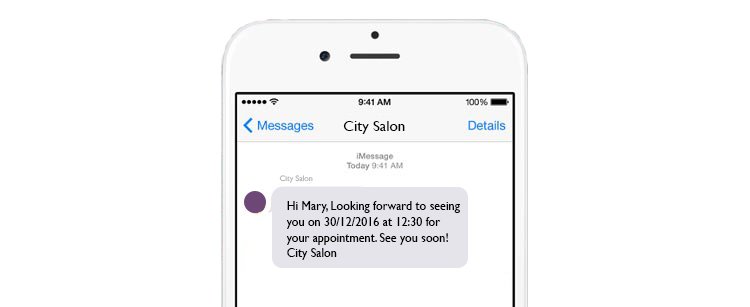 Also see: How To Add Value To Your Salon's Appointment Reminders.
2. Rebooking SMS
This feature will allow you to schedule a gentle reminder for all those clients who failed to book their next appointment on the day of their last visit.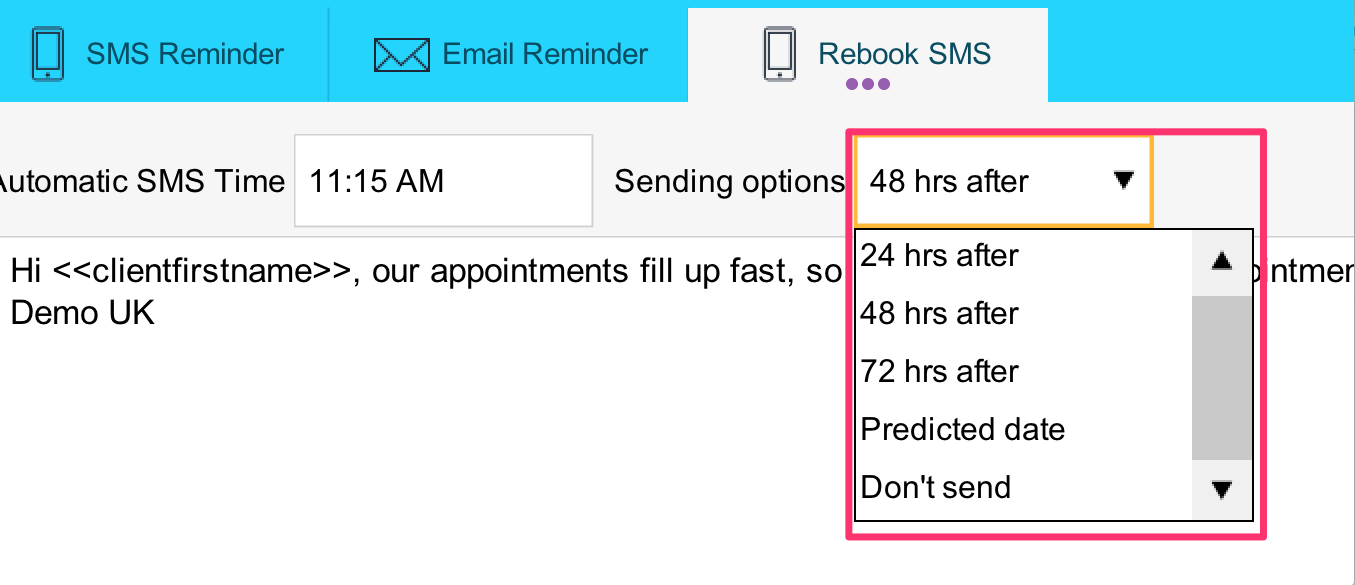 The Predicted date option uses an intelligent algorithm that can not only predict when your client is ready to rebook but also send them a message just before that moment.
To enable/disable Rebooking SMS, click on Marketing > Reminders > Rebook SMS.
3. Confirmation SMS
This SMS sends a booking confirmation to your client when they book an appointment with you. 
You can enable/disable the Confirmation SMS by clicking on Marketing > Templates/Filters > Confirmations > Check/uncheck the box that says Also send Confirmation SMS on New Appointment.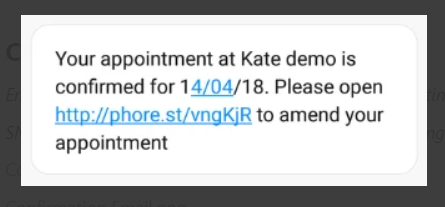 The confirmation SMS cannot be customized at present. For more information, see How to Set up a Confirmation SMS for Appointments.
4. No Show SMS
If a client does not turn up for an appointment, you can send them an SMS to re-book. This is a great way to ensure that your clients who are genuine no-shows are re-booked again for the future.

You can enable/disable the No-Show SMS by clicking on Marketing > Templates/Filters > No Shows. Tick or Untick the box if you would like to enable or disable the No-Show SMS. 
More information: Sending an automatic No Show SMS or Email.
5. Review SMS
A review SMS can be sent to your clients after their appointment, asking them for invaluable feedback on their visit. These scores are then fed back into your staff reports and also into the Reviews section in Phorest. 

You also can share your positive reviews on your Facebook or Twitter/X pages.
If you have our Online Reputation feature, the 5-star reviews you receive will get a follow-up prompt to post their review to your Facebook, Google, or Yelp profile.
You can enable/disable the No-Show SMS by clicking on Marketing > Reviews > Settings.
More information: How do I set up Review SMS
6. Pre-Send Forms SMS
Consultation Forms can be sent to clients via SMS (and email).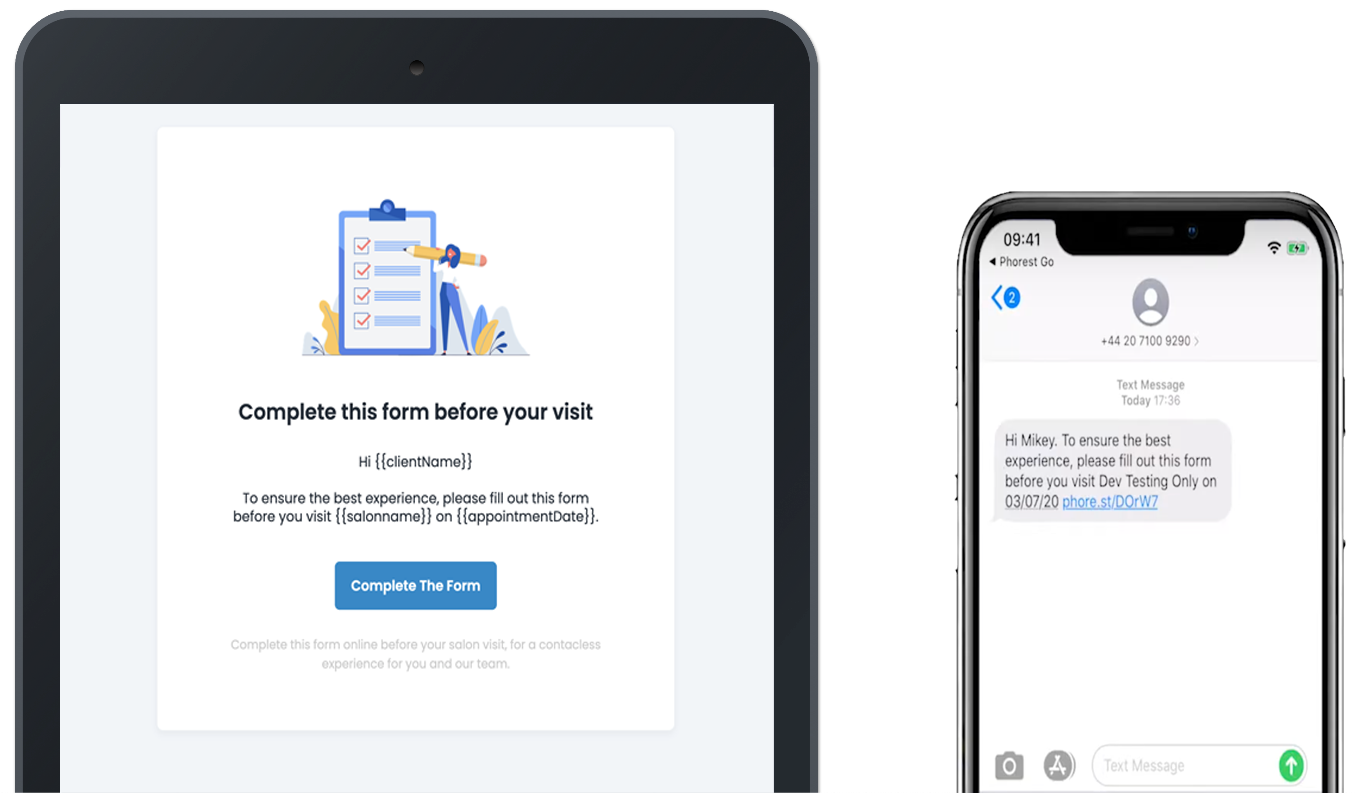 More information: Pre-sending Consultation Forms.
7. Owner SMS
The owner SMS is sent automatically from Phorest to Salon Owners on a daily basis with a breakdown of the salon's daily performance. 
This SMS is in the following format:
[SALON_NAME] SERVICES: $850 COURSES: $300 RETAIL: $550 VOUCHERS: $60 CLIENTS: C: $0 CC: $0 D: $0 CH: $0
Click here for a guide on how to enable/disable the Owner SMS feature.
---
Marketing SMS
8. Marketing SMS Campaign
Marketing SMS campaigns are a great way to increase your revenue while also getting your brand out there.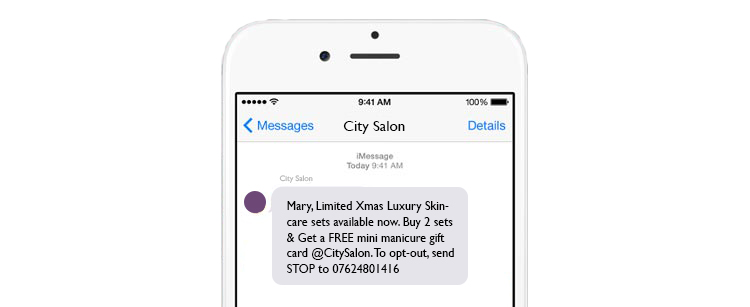 Click here to find out how to send a marketing campaign by SMS.
9. Marketing SMS Campaign - Old Editor
If you still use our old SMS Marketing Editor, you can view SMS Marketing Campaigns sent by clicking on Marketing > Campaign History.
You can see a list of sent campaigns, who sent the campaign & the number of recipients here. 
More information: How do I see emails or SMS that I have sent from Phorest in the old editor.

10. Fallback SMS
On average, salons only have email addresses for 30% of their clients. This means that each time an email campaign is sent, you miss out on contacting 70% of your clients! To tackle this problem and help salons reach 100%, we created Fallback SMS.
When you create an email marketing campaign, you can target clients who do not have an email address and send them an SMS instead. The SMS sends these clients a link to a web version of your email.
To check if you have sent a Fallback SMS, you can click on Marketing > View Campaigns and select a campaign. 
If you want to check how many clients were sent an SMS as part of your campaign, click on the 'Clients' tab at the top of the campaign. You can then filter by 'SMS Only' to check how many SMS were sent. 
In the 'Overview' section, the graph should also show both Email & SMS performance statistics if you have sent a Fallback campaign. 
More information: Fallback SMS.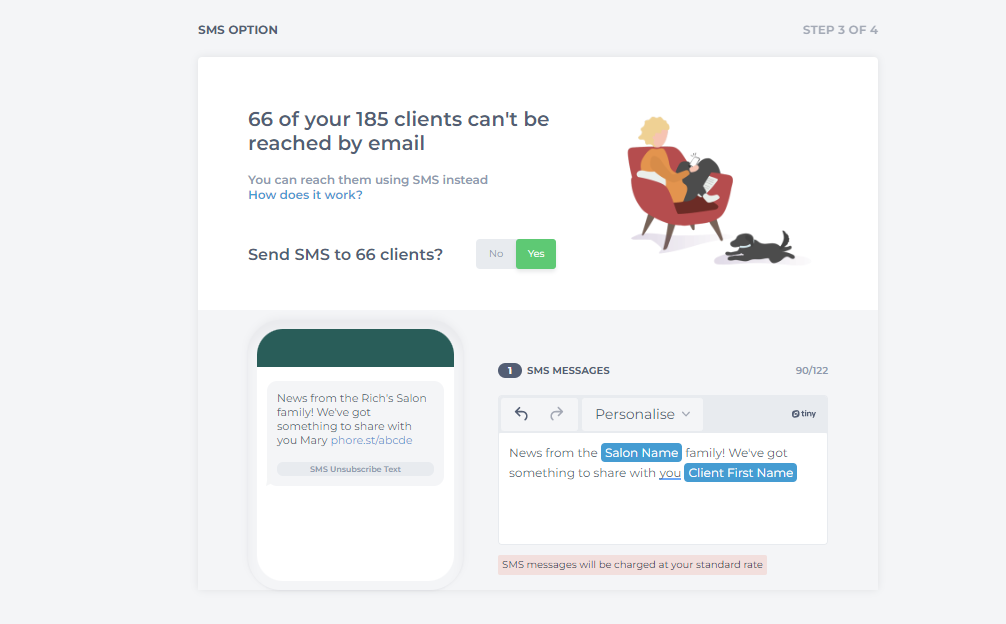 11. Client Reconnect
It costs 10 times more to get a new client than to retain an old one. 
Client Reconnect SMS helps you segment and target clients overdue to rebook, getting them back into your salon. 
To use this feature, click on Marketing > Client Reconnect
More information: How to use Client Reconnect.

Note: Depending on your package with Phorest, Client Reconnect SMS may be free of charge. Email growteam@phorest.com if you want to find out if these are included in your package with us!
12. TreatCard Referral SMS
If you have the TreatCard in your salon and use the 'Referred By' feature, a  client receives bonus points for each new client they introduce to your salon. When setting up the new client's client card, you enter the referrer's information, and they receive an SMS notification of the bonus points, and a thank you, as per the screenshot below.

To Enable / Disable this SMS, click on Marketing > Treatcard > Settings > Check/uncheck the 'Enable Send SMS to Referring Client' setting.