This article will show you how to refund a sale on Phorest with your Phorest Pay card terminal and can be done without needing the client present with their payment card. 
Note: Due to regulatory constraints this feature is only available in North America.
In this Article
Refunding a Sale
To refund a sale, go to Manager > Sales.
Use the search options and date picker at the top of the screen to find the sale you need to refund. 
Once you've found the sale, single-click it, then click the Refund button.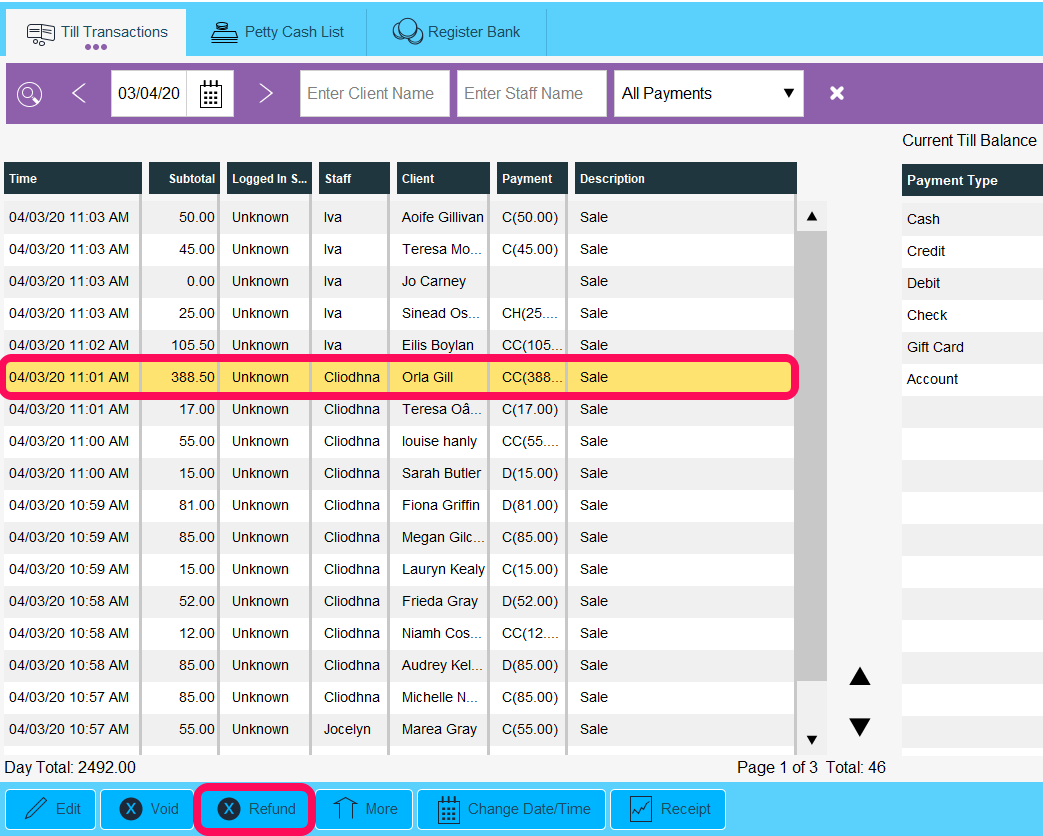 Note: If you are refunding a sale on the same day that the original transaction happened, use the Void button instead of the Refund button. Once the sale is voided, the client will be fully refunded within 3-5 business days.
On the Purchase screen, you can adjust the amount being refunded by single-clicking on the Price of the item and entering a new price, or you can remove an item by clicking the X beside it.
Once you're ready to process the refund, click Pay to process the refund.
Choose either Credit or Debit payment type (you will only be able to choose whichever was used in the original sale) then click Pay to complete the refund.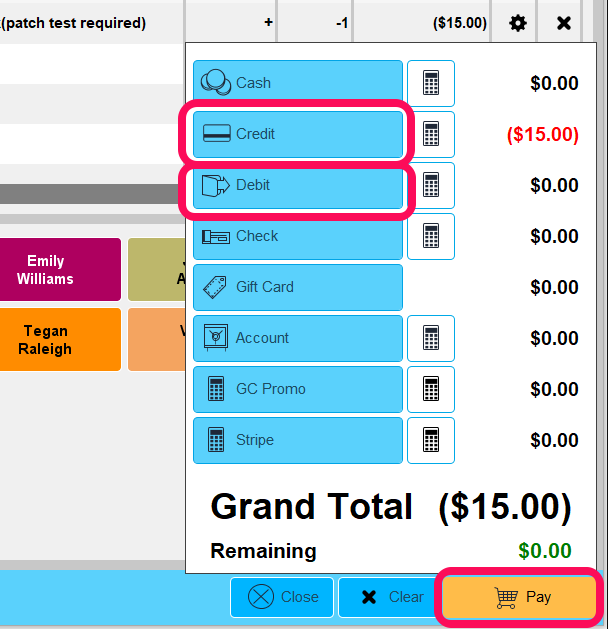 For the client
It will take roughly 3-5 business days for the refund to be fully processed and reach the client.
---
Refunding Part of a Sale (Partial Refund)
Go to Manager > Sales
Use the search tools at the top of the screen to find the sale, then single-click on the sale once you've found it.
Click Refund
Click the x beside each service and/or product in the sale that you do not wish to refund in order to remove them.
If you need to adjust the refunded amount for an item, click the Price of the item then enter the amount you wish to refund and click the - (minus) symbol.
Click OK
Click Credit or Debit (whichever payment type was originally used)
Click Pay
---
Refunding a Tip
To refund the tip only you will:
Go to Manager > Sales
Use the search tools at the top of the screen to find the sale, then single-click on the sale once you've found it.
Click Refund
Click the x beside each service and/or product in the sale to remove them
Click Pay
Click Tip
Choose the Staff Member
Enter the Tip Amount on the number pad and click the - (minus) symbol
Click OK
Click Credit or Debit (whichever payment type was originally used)
Click Pay
Note: Tips are not included when a sale is fully refunded