This article will show you how to set up a Phorest Pay account powered by Stripe.
Our preferred merchant services provider in the US is International Bancard. If you are in the US and are interested in ordering a PhorestPay Terminal, please reach out to your Salon Success Manager or email usgrowteam@phorest.com.
  Feature Availability
The information in this article is relevant to PhorestPay accounts powered by Stripe, available in Ireland, the United Kingdom, the United States, Canada and Australia.
To start using PhorestPay to take payments, you must first set up your PhorestPay account through Stripe.
To start, go to Manager > PhorestPay.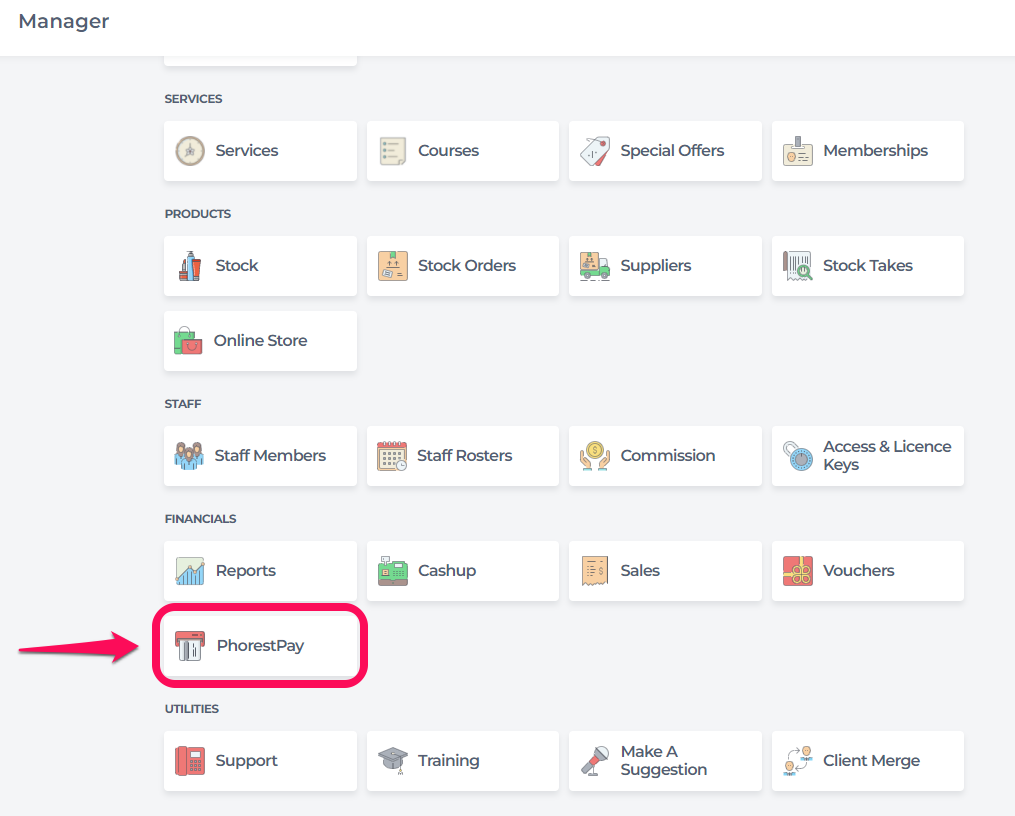 Access Required
The Settings access permission is required to view this screen. Check out this guide for information on how to update staff access.
On the next screen, you'll see a list of the features you can use with PhorestPay. Click on Activate PhorestPay to get started with creating your account.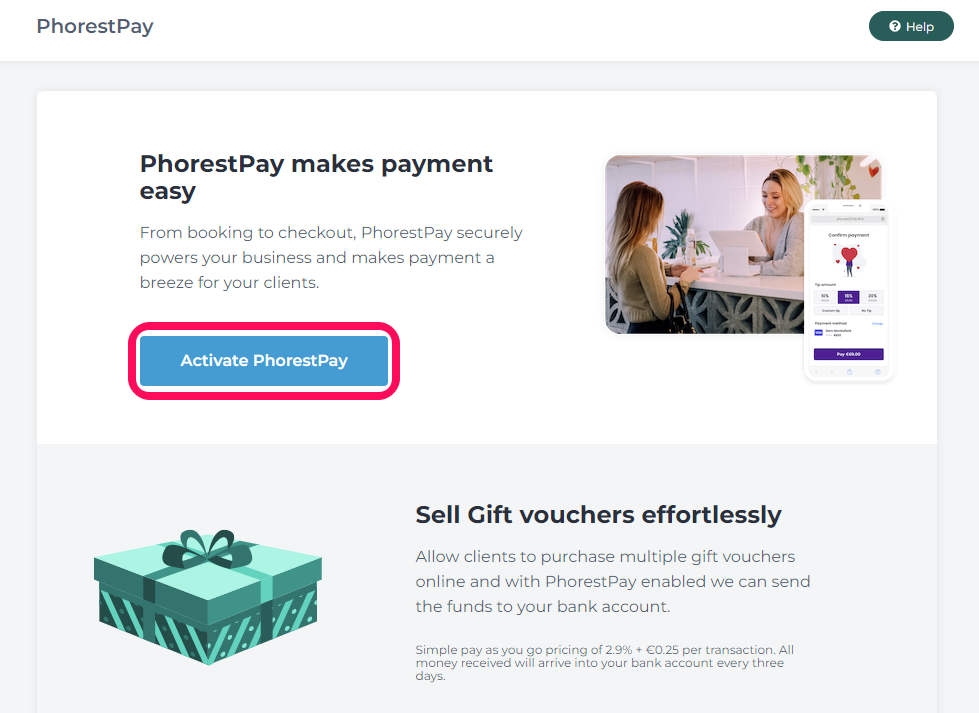 A pop-up screen will appear requiring you to confirm your intention to set up a Stripe account. Click Complete account setup.
---
Setting Up Your Account Information
Start by adding your mobile phone number and email. You will be sent a text message with a verification code, so make sure to have your phone nearby.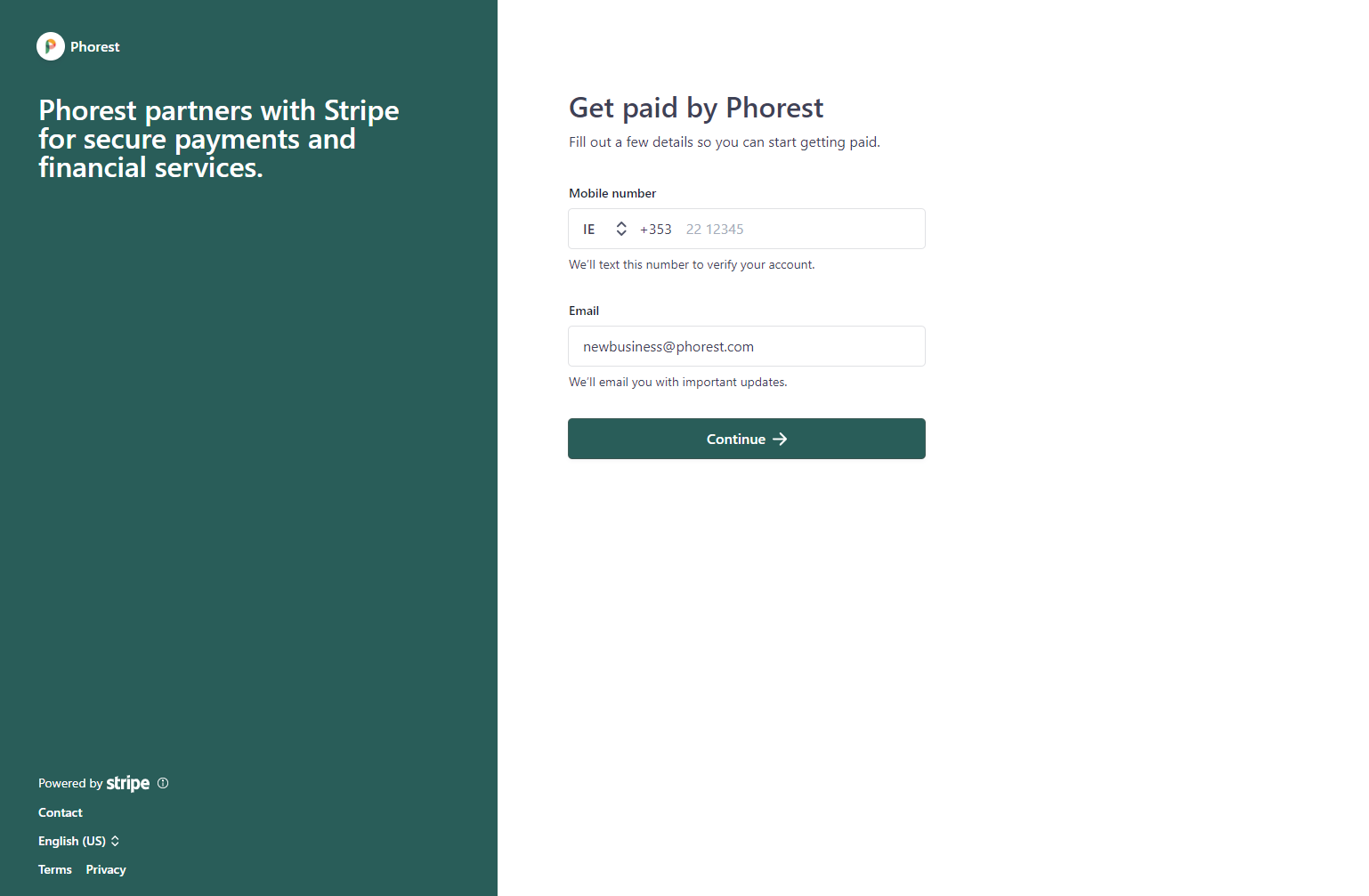 Follow the account creation process within Stripe.
Once you've finished creating your account, your PhorestPay account will be active. Head back to your Phorest system to start using PhorestPay.
You will need to leave the PhorestPay area of Phorest and go back into it to see any changes.
Once your account is active, you will see your Balance, Previous Payout and Next Payout on the Manager > PhorestPay screen. 

---
If Stripe Can't Verify Your Information:
If Stripe can't verify your information with that already provided you will need to finish off the process by clicking Complete My Setup.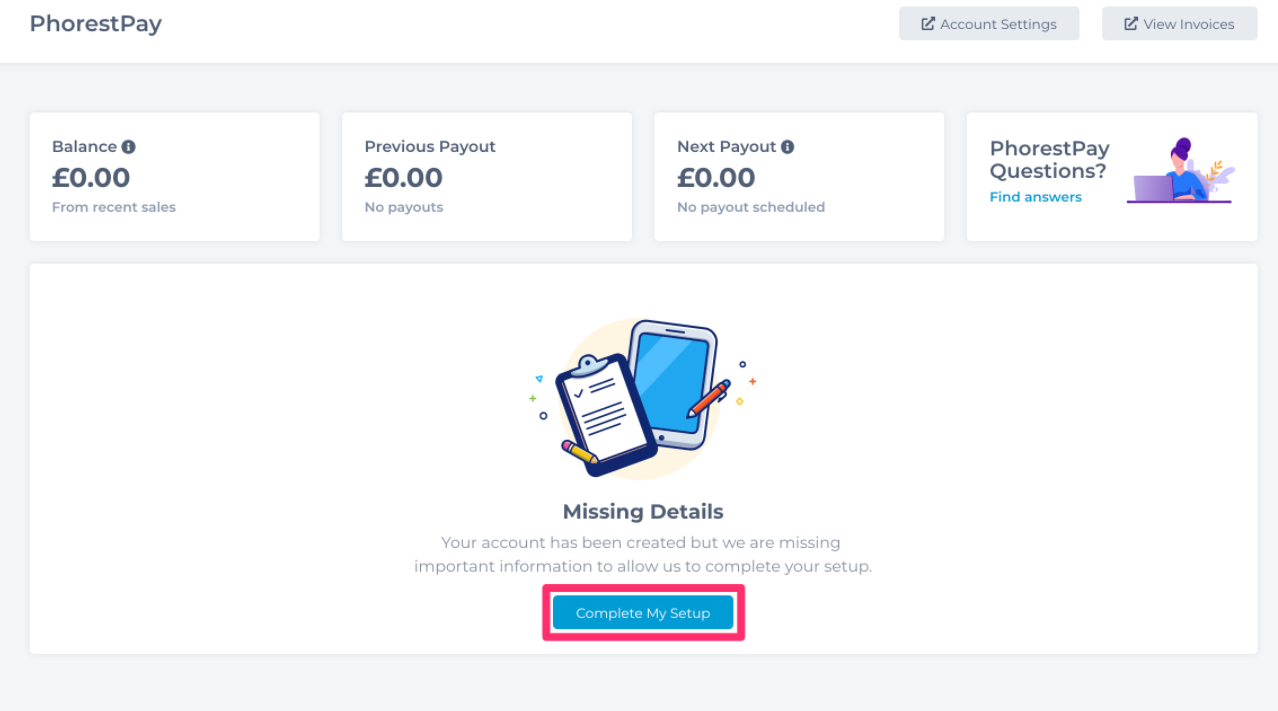 Again, this will take you back to the Stripe pop-out web browser screen.
From here, you must finish your setup by submitting proof of Identification and of your Home address.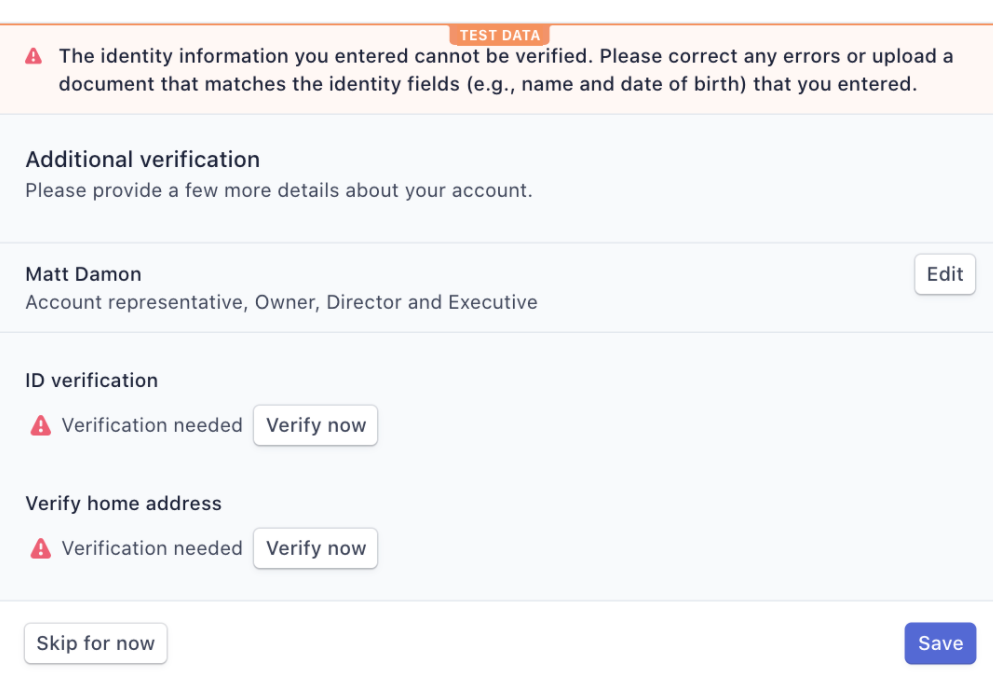 Click Verify now to verify your identification.
Once verified, click Save.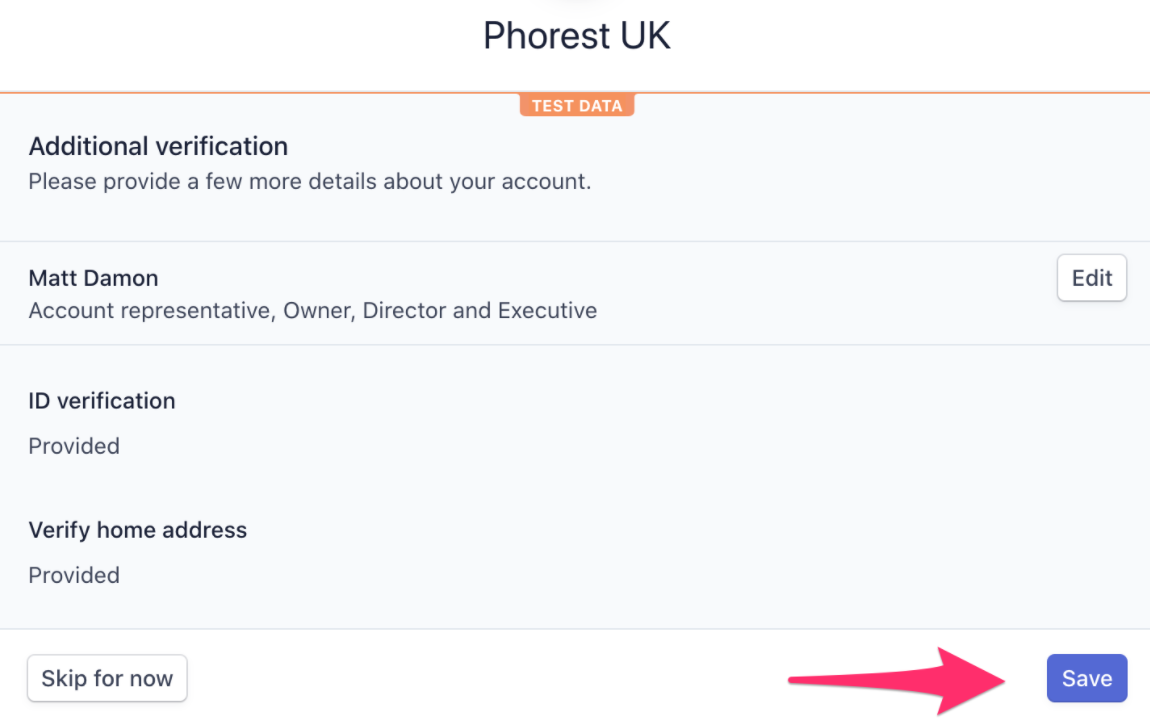 Once saved you will land on the final Stripe screen where you can view your Payouts and Account details.
What you see in the Payouts tab is the same as your PhorestPay dashboard in Phorest.
Payouts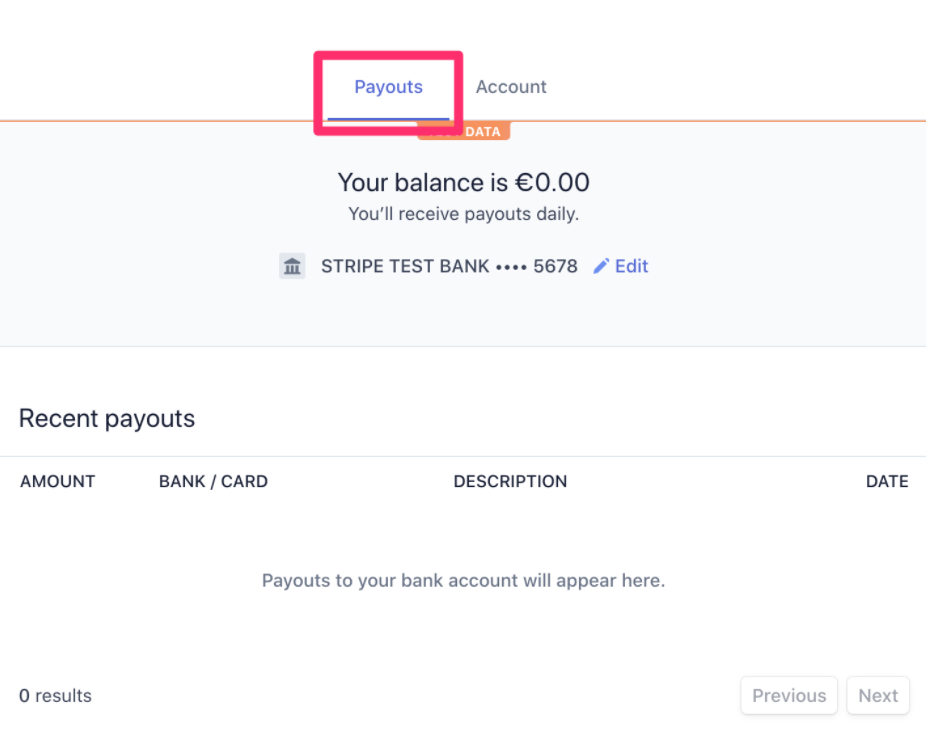 Account Details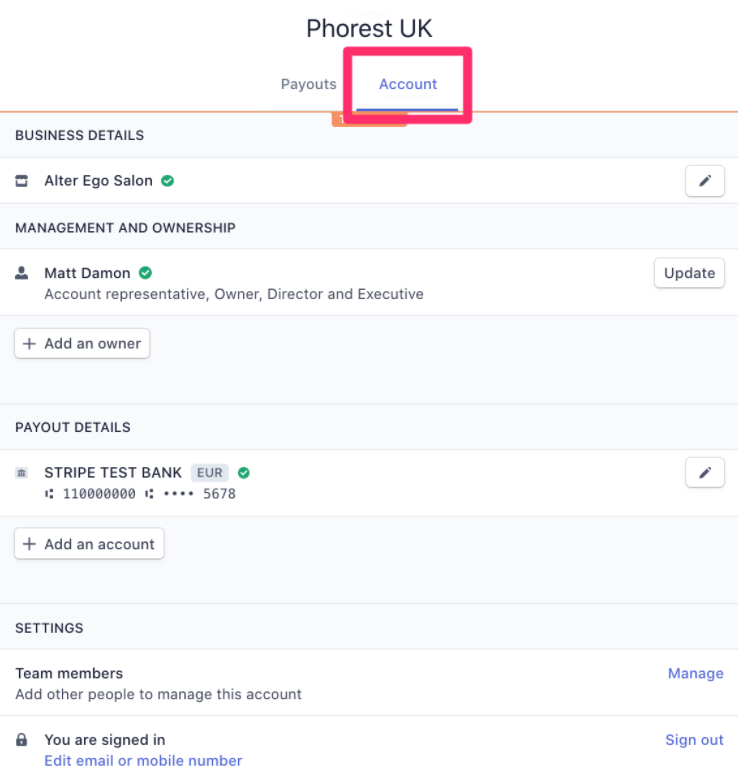 Head back to Phorest for the final time and again leave the PhorestPay screen and return to finalise your account set-up.
You can update your account online at any time by clicking Account Settings. Similarly, you can View any Invoices you have with Phorest.
Here's how your PhorestPay screen will look once your payments begin to roll in.
PhorestPay Payouts Screen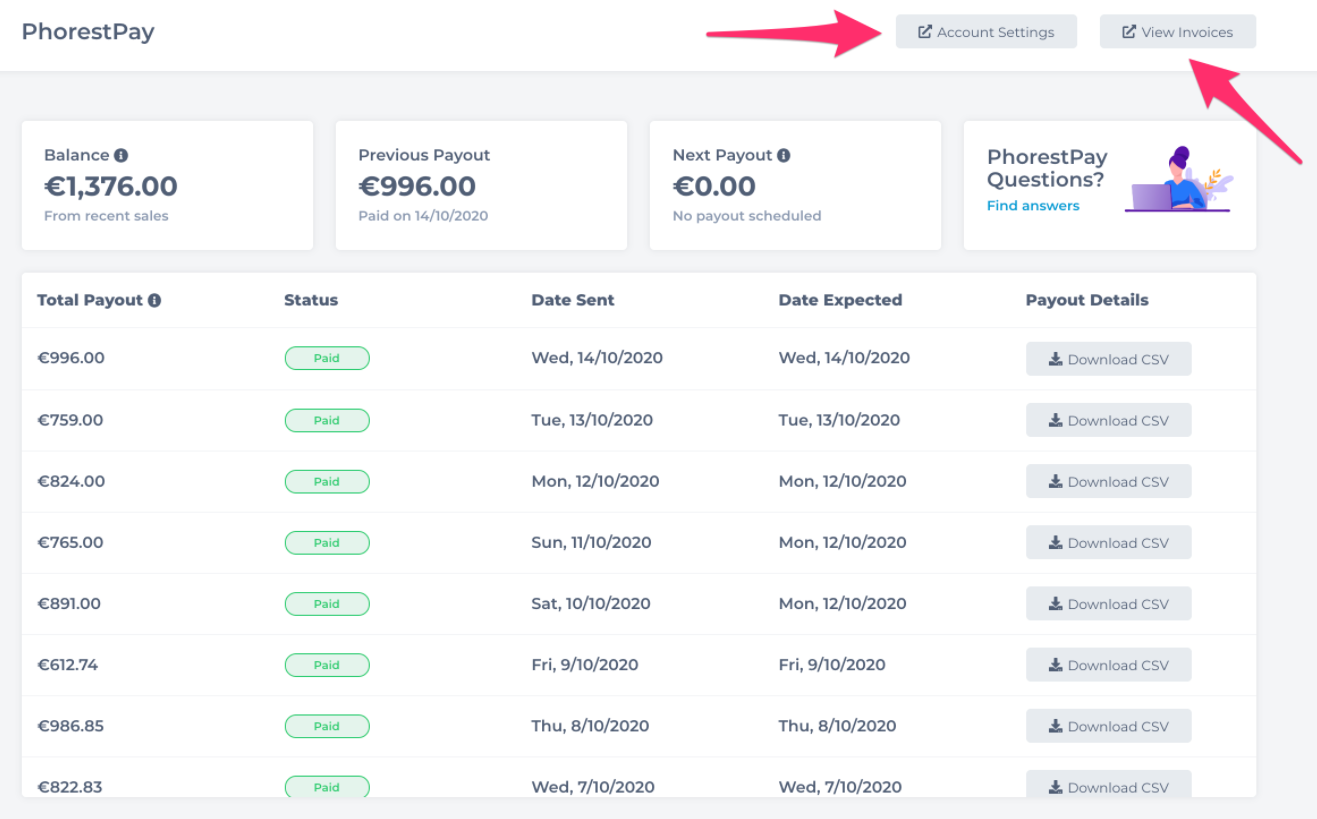 How do I receive payments?
Payouts are done on a daily basis and take 1 business day to land in your bank account.
Changing Your Account Details
If you ever need to amend your account details, check out this guide to find out how.