This article will show you how to use Ads Manager to run ads on Facebook and Instagram.
 Latest Version of Phorest Required
This feature requires Phorest version 8.4.25 or higher. You can get the latest version here on our Downloads page.
 In this Article
Creating an Ad
Go to Marketing > Manage my ads.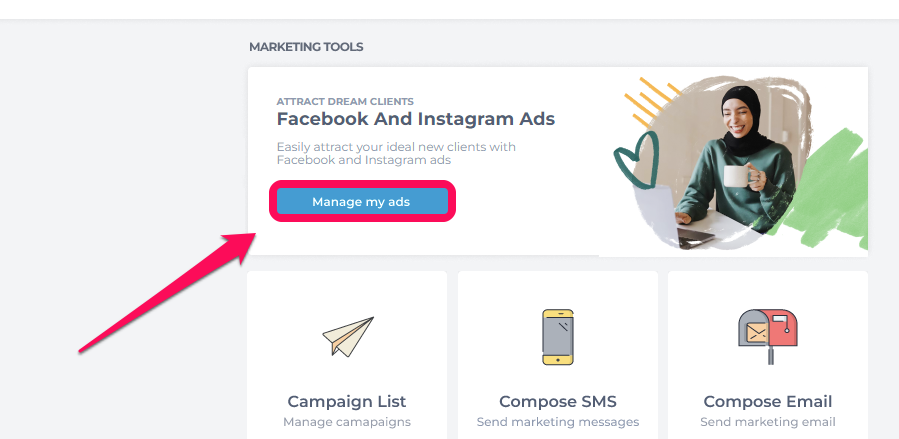 Once you've connected to Facebook, choose one of the Create ad options to begin.

You will need to have a minimum of 100 clients in your Phorest system to create an ad.
Find new clients: This option pairs your top-spending clients in Phorest with Meta's ad algorithm in order to attract ideal new clients to your business. Existing clients will not see this ad.
Reach existing clients: Your ad will appear to clients that already exist in your current client list in Phorest. Clients are identified on Facebook by their email and/or mobile number.
Save overdue clients: Your ad will appear to existing clients that have had at least 3 visits in the past but have not visited your business in the last 6 months.
Creating Your Ad
When creating your ad, you'll need to update each of the four sections highlighted below.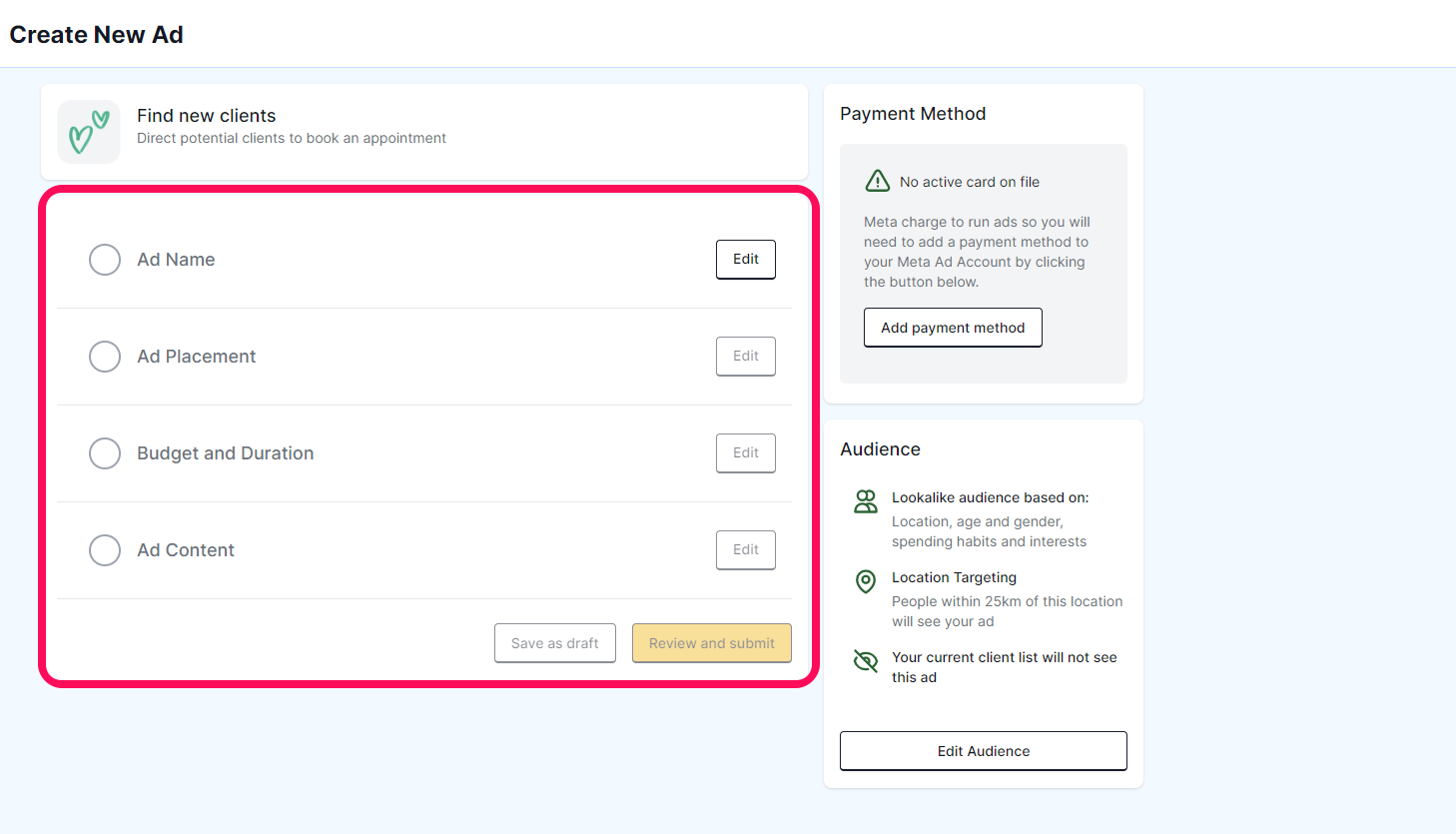 Your ad will save as a draft after you complete each section, so you can start and return to it later if you need to.
Ad Name & Ad Placement
Give your ad a name. Use something that is memorable to you in relation to the ad you're creating.
The Ad Name will not be visible to your clients. It will appear on your Ads Manager page on Facebook, and each ad created in Phorest will automatically have 'Phorest' added to the end of the ad name within Facebook, so you know it was created through your Phorest system.
Under Ad Placement, choose if you want this ad to show on either Facebook, Instagram, or both.

If you see a message saying Instagram account not connected, this means you didn't choose an Instagram page when setting up the initial Ads Manager connection.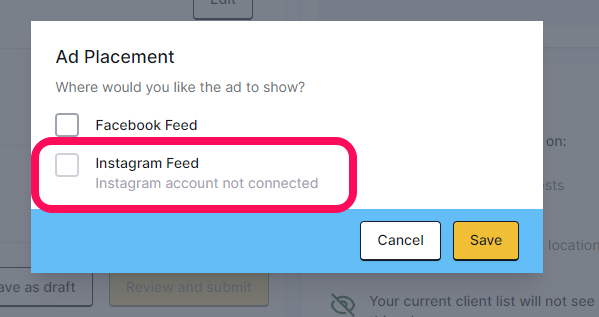 You can choose to only show the ad on Facebook or, to connect to Instagram, you will need to disconnect and reconnect your Meta account. Go to Manager > Settings > Online > Instagram & Facebook > Disconnect. Once disconnected, go back to Marketing > Manage my ads, and make sure to choose an Instagram page when reconnecting.
Budget and Duration
The budget is the amount you want or are willing to spend each day your ad is running. Your ad will never cost you more per day than the daily budget you set.
The budget spend goes to Meta and does not go to Phorest.
Set your ad budget by choosing the amount you would like to spend per day under Daily Budget and how many days you would like your ad to run under Duration.
Typically with Meta, the higher your budget, the larger your audience. However, this varies depending on your business size, location, audience, etc. If you want to run a small-budget ad, to begin with, here's a Meta article on best practices for minimum budgets. You can also find some information about daily budgets here.
The duration you set is completely up to you. However, it's worth mentioning that Meta's ad approval time is included in this duration. For example, if you choose a 3-day duration and Meta takes 1 day to approve, then your ad will run for the remaining 2 days. Please see here for more information on Meta's ad review process.
The minimum spend per day is set by Meta/Facebook.
Content
Finally, create your Ad Content by uploading an Ad Image, then add your Primary Text and Headline, and click Save to finish.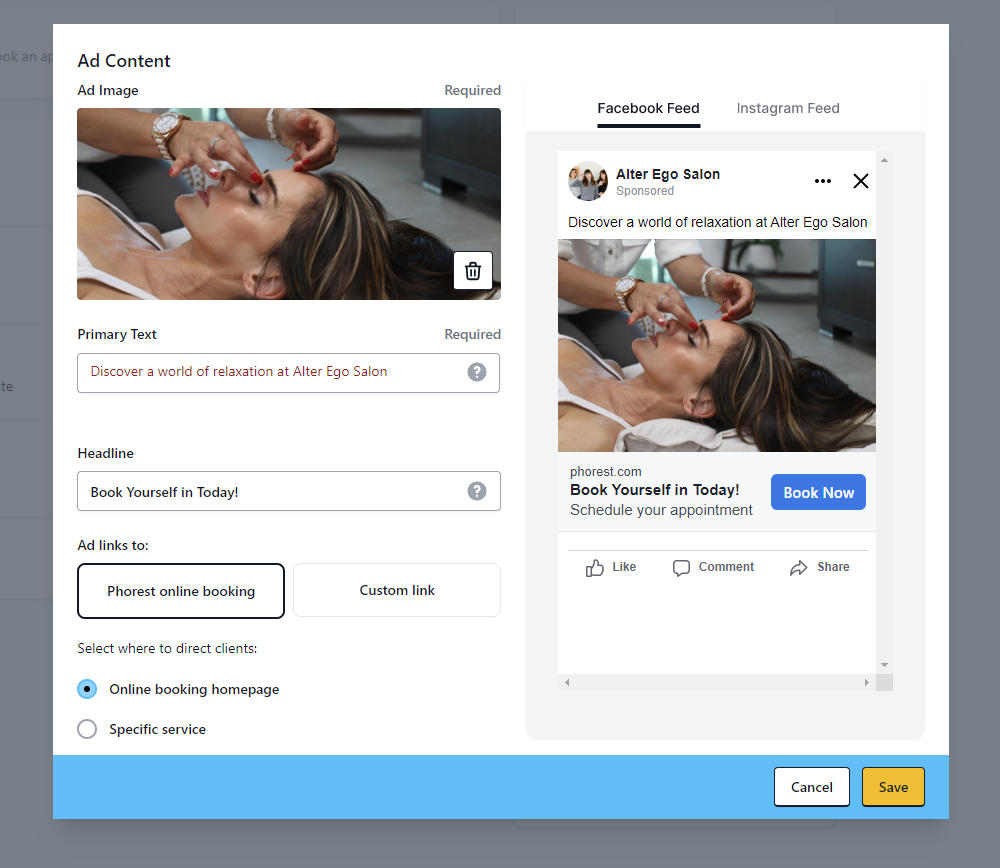 When adding an image, upload any suitable image from your computer.
Square images (at a 1:1 ratio) are recommended for Facebook and Instagram feeds.
You can also use image editing software to customize your image before uploading it. Canva is a popular image editing software, for example.
It is not currently possible to add a video as an Ad Image. Only still images are supported currently.
You can find some information from Meta about best practices when designing your ad here. You can also find Meta's recommended image size and format here.
Custom Link
When creating your ad, you can use a Custom link. However, note that the ad call-to-action currently cannot be edited and will always include the text "Schedule your appointment" along with a Book Now button.
Your ad performance will still be tracked, even if a Custom link is used.

---
Reviewing and Submitting Your Ad
Once you've finished setting up your ad, click the Review and Submit button to see a final overview of the ad, then click the Submit for Approval button once you're ready to submit the ad.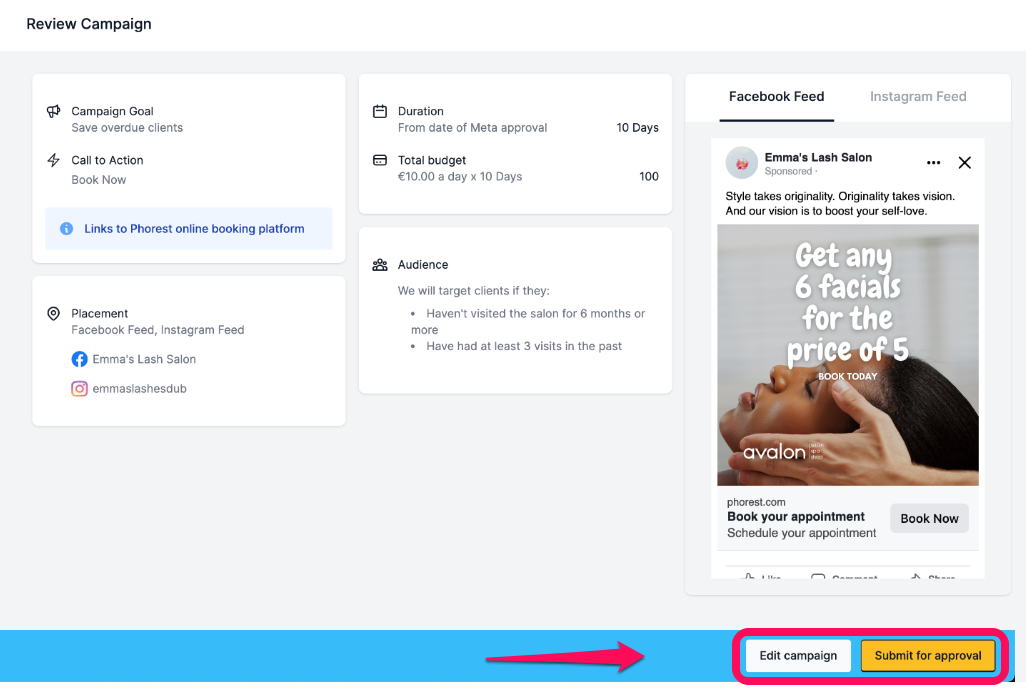 After submitting, your ad will go to Meta for approval, and you'll receive an email notification from Meta to the email address associated with your Facebook business account once it has been approved. According to Meta, most ads are approved in 24 hours.
You can also return to the Review Campaign screen later if you want, by clicking into an ad and then clicking Review Ad.
---
Ad Performance & Analytics
You can review the current status and performance of each ad that you create in the Facebook & Instagram Ads dashboard (found under Marketing > Manage my ads).
Click on an ad to see how it performed or, if the ad is still active, how it's currently performing.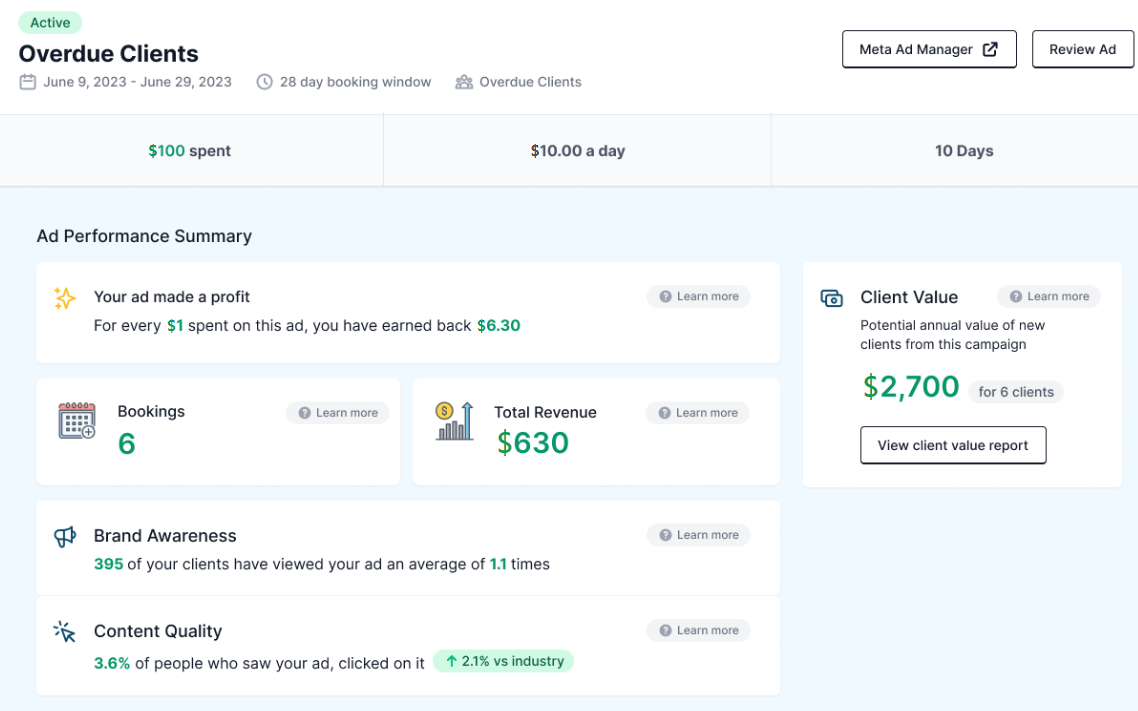 How are Bookings Tracked?
Bookings refers to the total number of services booked by clients who viewed the ad and made an appointment, either online or in person, within 28 days of viewing the ad. Phorest uses a client's email address/phone number to match with their Facebook/Instagram account, to know if they viewed the ad. The 28-day booking window is necessary as ads often require time to influence clients and encourage them to make a booking.
---
FAQs
Can my ad appear in people's Stories or Reels?
Currently, this is not possible. However, it is something we are hoping to implement in the future.
Are videos or Carousel Ads supported?
Currently, only still images are supported. Videos and Carousel Ads are not currently supported, however, we are hoping to implement this in the future. 
Can I run an ad to sell a product or a gift card online?
The call to action button in your ad will be related to booking an appointment. Advertising products or gift cards through Ads Manager is not currently possible.
Can I see which specific clients made a booking after seeing my ad?
Due to Meta's data privacy policy, you cannot see specific client details. However, you can track your ad performance by viewing the Ad Performance Summary.
I am a multi-location business. How does this work for me?
Find new clients: Your ad will be targeted toward people who are similar to the top-spending clients in the location you're logged into when you create the ad. This means that if you have very different client bases between your locations, you'll need to ensure to log into the correct location to target the right audience. The targeted audience will also be directed to the Online Booking link for the location that you're logged into when you create the ad.
Reach existing clients & Save overdue clients: Your ad will target existing or overdue clients from the location where the ad was created. For clients who visit multiple locations, targeting will depend on the location of their most recent visit.
Can I run multiple ads from multiple locations at the same time?
Yes, you can run multiple ads at the same time, and multiple ads from multiple locations. However, it's important to note that if you only have 1 Facebook or Instagram page but multiple locations in Phorest, then all ads will run on that 1 page.
How does Meta charge for ads?