This article will outline using the Invoice Portal to help manage your Phorest Finances.
Invoices with PhorestPay (Stripe)
The information in this article is related to the invoice you receive for your Phorest subscription. For information on your PhorestPay invoices, check out this guide.
In this Article
Accessing Your Invoice Portal
To access the invoice portal, open Phorest on a computer and go to Manager > Business, then click on Invoices.
---
Downloading Your Invoices
Click on the blue invoice link under the Invoice Number column to view and download your invoice:
---
Sharing Invoices With Your Accountant (Creating a Login)
You can also give another person (e.g. your accountant) access to your invoice portal by creating a login for them.
To do this, go to the Logins tab, then enter their Email, choose an Access Level, and click Create.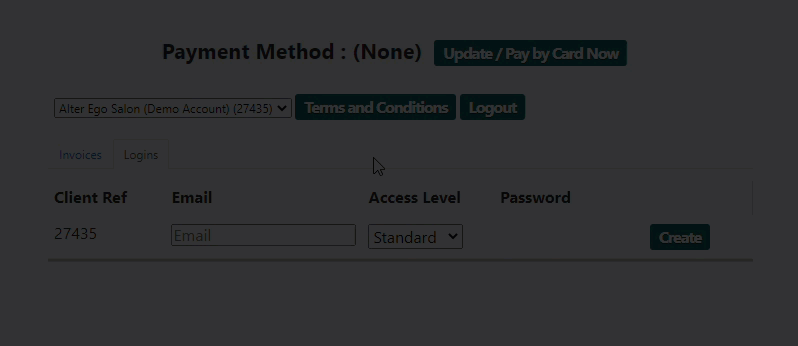 A View only access level can only view and download invoices, whereas Standard access will have the same access as the account owner.
Once you've created the login, an email notification will be sent to the person to let them know an account has been created. The email will also include a link to the invoice portal.

Note: This email can take up to 10mins to send.
The invoice portal can then be accessed via the following link https://gw.phorest.com/clientlogin.php
---
Resetting a Password
If you ever need to reset the password for a login that you've created, you can do so by going to the Logins tab > Type in a new password in the Password field > Update.

---
Including a PDF in Your Monthly Invoice Email
You can opt to include a PDF breakdown as an attachment in your monthly invoice email if you like. To do this, go to the Logins tab in the Invoice Portal and change Email Invoice PFD's Automatically to Yes.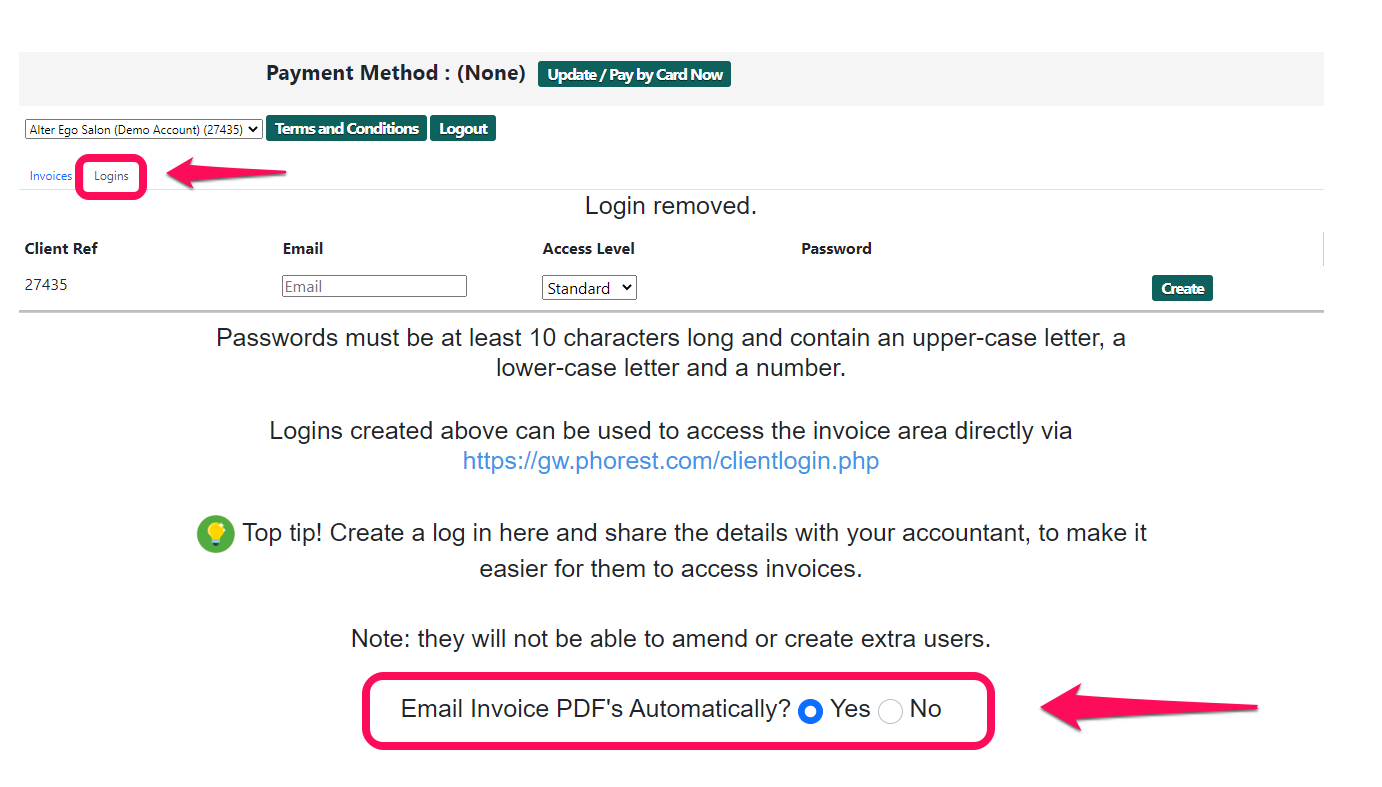 ---
Viewing Installments
These can be found under the Instalments column. To view the instalment information, click on the instalment amount to see a payment breakdown.

---
Download a Statement of Account
Click on the download statement button next to your salon name, this will download a detailed report of your Finances with Phorest. It shows you invoices raised vs invoices paid / unpaid and will show you if your account is in arrears.

---
Change Your Payment Information
Here you can update the payment details used for your Phorest subscription fee.