This article will outline how you can enable and utilize the advanced cash up/cash-out feature on Phorest.
Note: The Advanced Cash Up is the older process for cashing up on the Phorest system.  Once you click Stop Current, it CANNOT BE UNDONE so be sure you have finished adding transactions for the day before you click Stop Current. If your cash and credit do not balance with what the software is expecting, it is imperative that you correct the mistakes in the Sales section before you finish up otherwise the reports will not tally with the cash collected. 
The main difference in the Advanced Cash Up is that you determine the start and end of the Cash Up period - this means you can run multiple cash ups throughout the day or can choose to cash up weekly, bi-weekly etc 
It is recommended that you cash up daily as discrepancies are easier to track.
---
How to enable Advanced Cash Up
To turn on Advanced Cash Up, go to Manager > Settings > Point of Sale > Show Advanced Options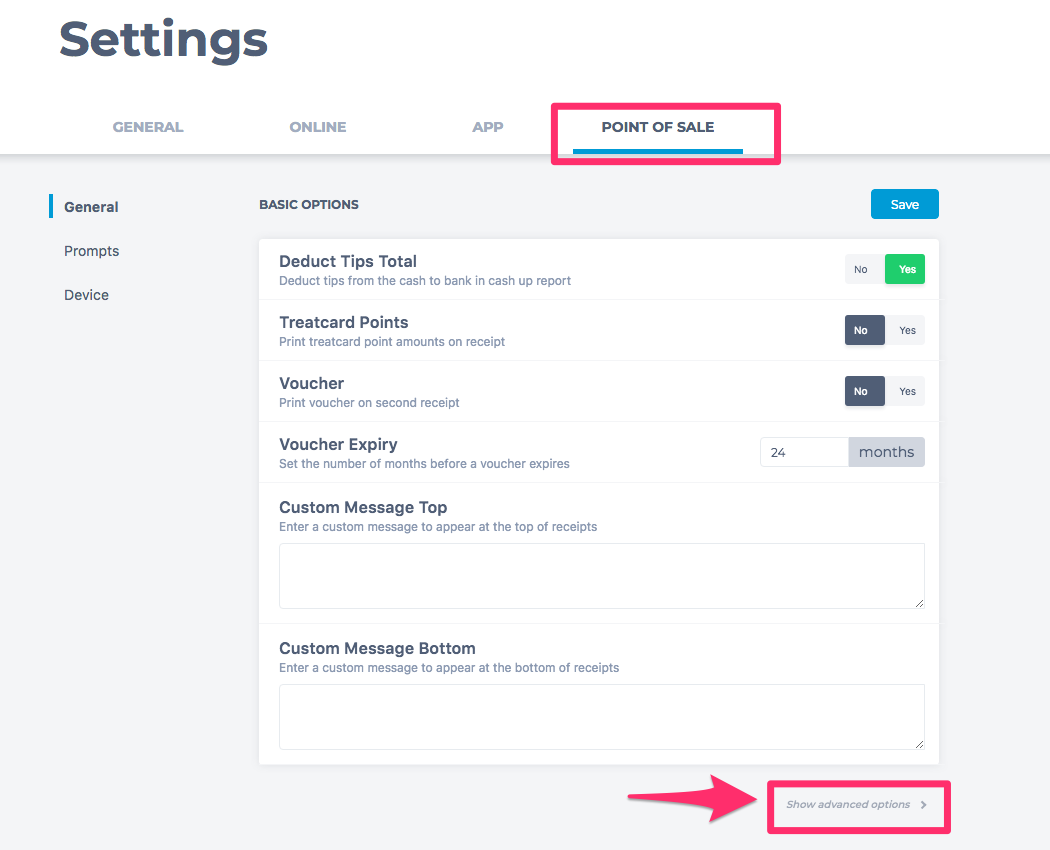 Select 'Use Advanced Cash Up' then click Save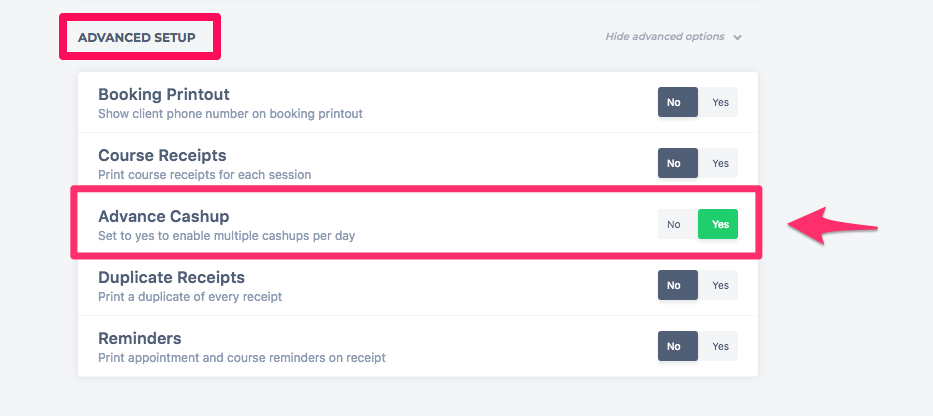 ---
How do I use the advanced cash up?
To use the Advanced Cash Up, go to Manager > Cash Up.
When you are here be sure that there are no more transactions for the day, click on Stop Current. 
Note: This cannot be undone. Only proceed if you are sure there are no more transactions for the day.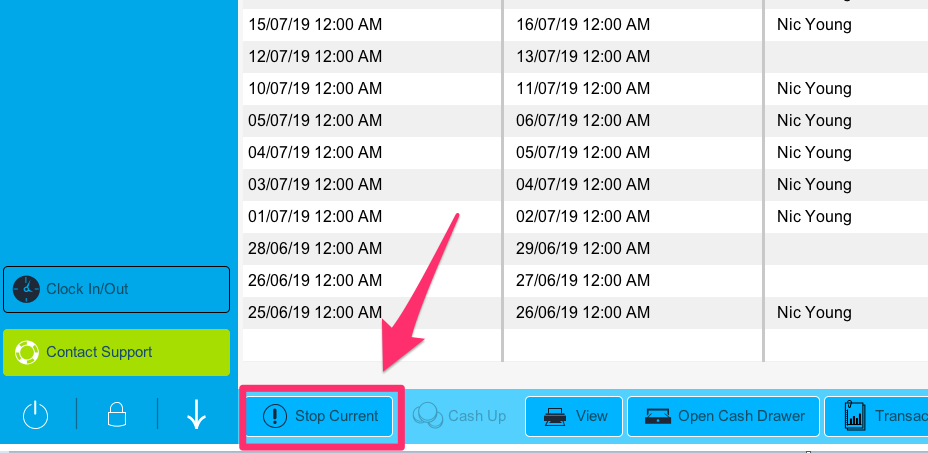 You will get a pop-up asking 'Do you want to stop adding transactions to the current End of Day report?' If you are sure there are no more transactions, click Yes.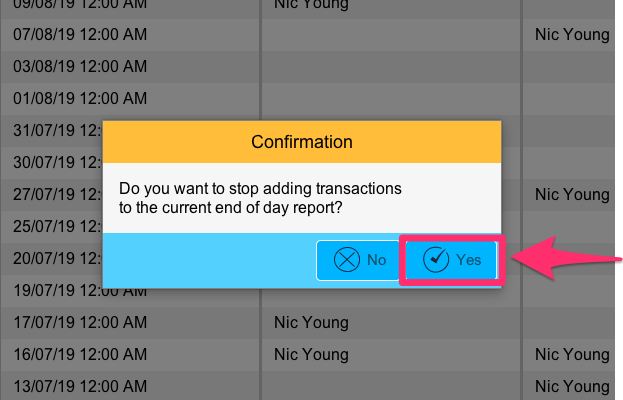 The next pop-up will ask "Do you want to cash up?" Click Yes.



If you have a cash drawer, it will now pop open. You will be presented with a screen with your Payment Types in one column (1), the actual amount of figures you have in your till (Actual) (2), and the till's expected values (3).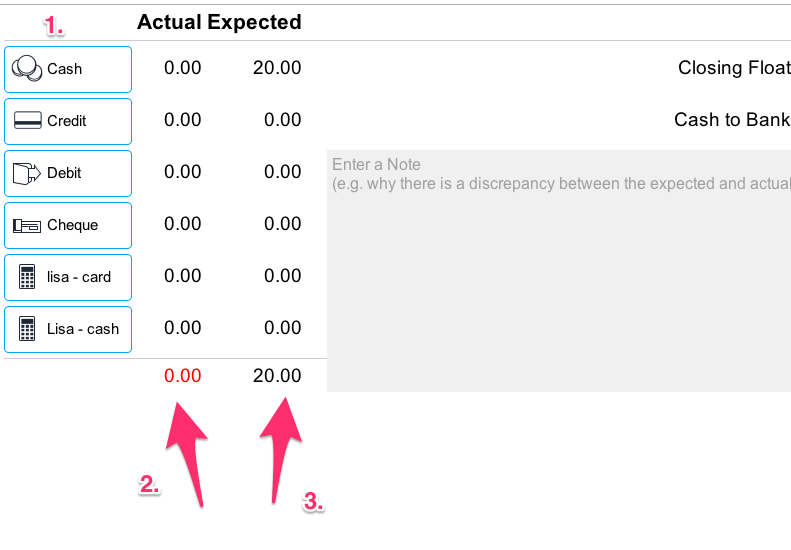 Click on the button for each Payment Type (1), enter the amount you have for it (2), then press OK (3).
When you have done this for all payment types, you can check the actual balance against the till's estimated balance. If they both match, the actual balance will show in green, instead of red.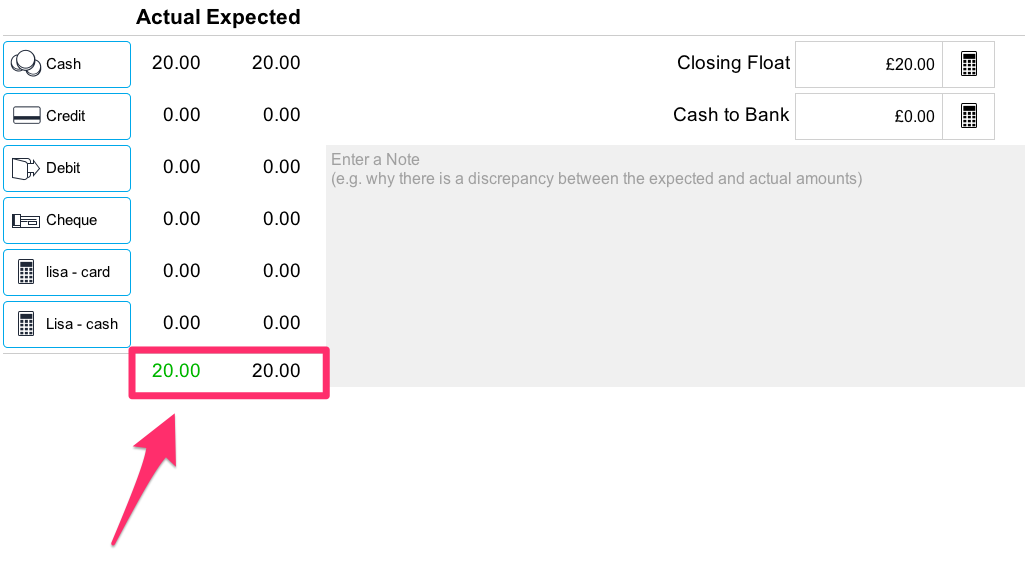 Enter the amount for your Closing Float, and press OK.
Click on Save at the bottom of the screen.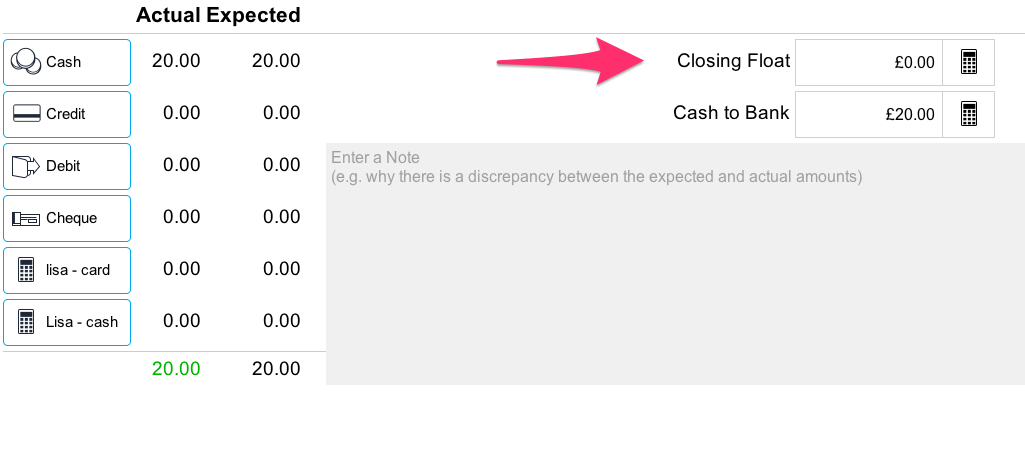 You will now see your End of Day report. It is recommended to print this, either on a receipt or with your A4 printer, for your records.