This article will advise on how you can perform your Cash Up within Phorest using our simple cash up feature. 
To begin your cash up, go to Manager > Cashup.
The cash up screen will always default to the current day's End of Day. This will be highlighted as shown below. 
To begin, select the Cash Up button at the bottom of the screen.
When cashing up, enter the Actual amounts for all the payment types by tapping the buttons (i.e. cash, debit etc). The figures in the Expected column are what the software has calculated based on the sales you have entered into the software that day.
The Balance figures at the bottom will go green when both sets of figures match. 
Note: The Cash figure will always take into account your Closing Float from the previous day.
Set a Closing Float to how much cash you're leaving in your till/register (i.e. opening float for the next day), and the rest of your takings that day will automatically go to Cash to Bank. If necessary you can enter a Note for each cash up in case you need to explain discrepancies. Finally, click Save to finish cashing up.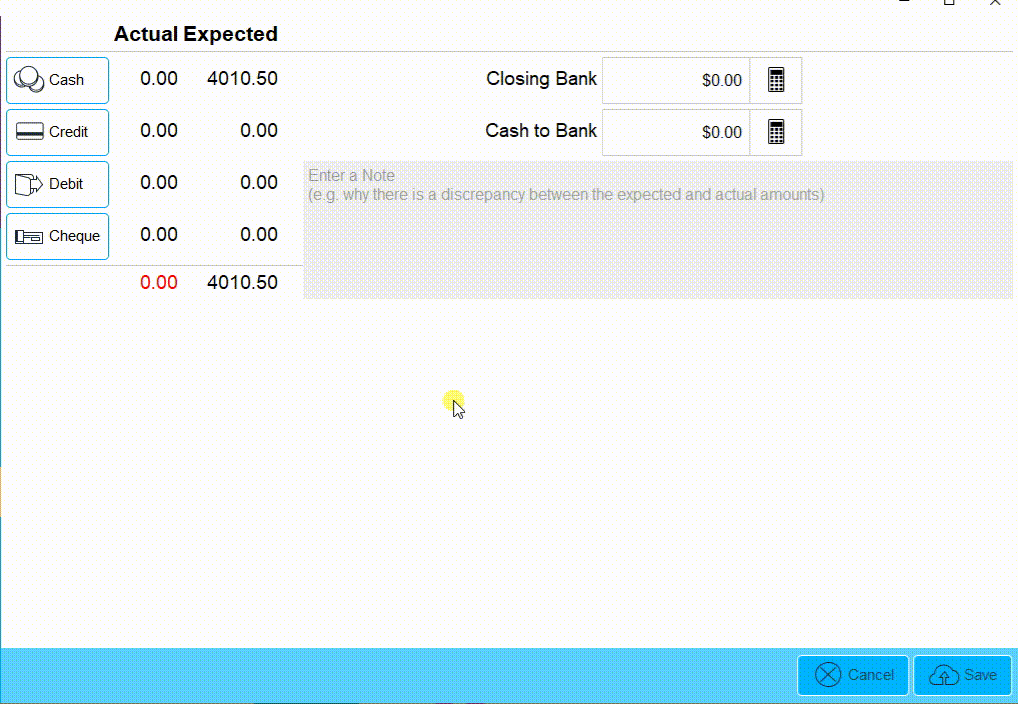 ---
The Cash Up Report
The daily Cash Up report will then automatically be displayed. You can print this either on the receipt printer, an A4 printer or to PDF.  Close the page by clicking on the Close button to be returned to the main cash up screen.  
Note: Online booking deposits and In-House deposits paid through PhorestPay are not counted towards the All Visits (#Of Clients) total.
On the main cash up screen, if you want to combine a wider date range into one Cash Up report then you should tap the Date Range Report button
You can also cash up on your iPhone or iPad using Phorest Go.  Phorest will perform an automated cash up if not manually done by staff each evening, which you can amend later.
Note: The simple cash up automatically runs from midnight to midnight (24 hours) so there is no need to manually stop your cash up. For people used to using the Advanced Cash Up on Phorest, information on this feature can be viewed here.