This article will show you how you can easily link your online booking to your Facebook and Instagram pages.
  Access Required
In order to connect your Phorest online booking to Facebook and Instagram, you will need access to Manager > Settings. To learn more about configuring Access permissions for staff members, check out this guide.
This article discusses how to set up your Instagram & Facebook connections using Phorest on your computer. If you are setting the connection up directly through the Facebook and Instagram apps then you will need your Phorest Go login details to do this.
Go to Manager > Settings > Online > Instagram & Facebook
Click the Connect Accounts button, then read and agree to each of the terms to get started.
Give the new connection a name (e.g. your business name), click Save and Continue, then click Continue to Facebook to sign in to your Facebook profile.
You will need to sign in to your personal profile that is associated with your Facebook business page.
The next step will open up in your internet browser. However, you may need to minimize Phorest to see this.
Multiple Locations in Phorest?
If you have multiple locations in Phorest and multiple Facebook business pages for each location, you can set up multiple connections and name each connection after each location so you can easily distinguish between them in your Phorest settings. Continue the setup with one location first, then return to this screen and create another connection to link the remaining locations.
---
Completing the Setup & Connecting to Instagram
  Instagram Business Account Required
In order to set up a Book Now button on your profile, you must have a professional account on Instagram. For more information, click here.
Continue with the setup process in your internet browser. You will eventually see the option also to add your Instagram profile. If you wish to do this, click Add Profile.
Your Facebook and Instagram accounts will need to be connected in order for this to work. To learn more about connecting your accounts, check out this Facebook help article.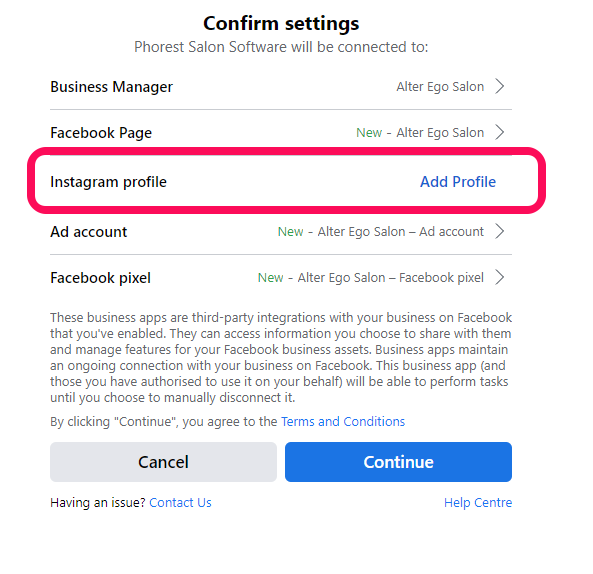 Continue with the remaining steps on Facebook until you get a notification to close this tab. Close the tab or close your internet browser and return to Phorest, and your page(s) should now be connected and Book Now buttons enabled.
---
Your staff members can also connect Instagram to their own Instagram profiles. To find out more, check out this guide.
 Having Trouble Connecting?
Facebook may display some errors when attempting to connect your account. Unfortunately, these are out of Phorest's control. However, we've made up some guides below that may help if you get stuck
---
 Reporting on your Bookings
There are two tools you can use to track the effectiveness of your Facebook and Instagram Book Now buttons. Click on the links below for more information: