This article will show you how to add a new staff member/user to your Phorest system.
Creating and Configuring a Staff Member
To add a new staff member, go to Manager > Staff Members, then click the Add button.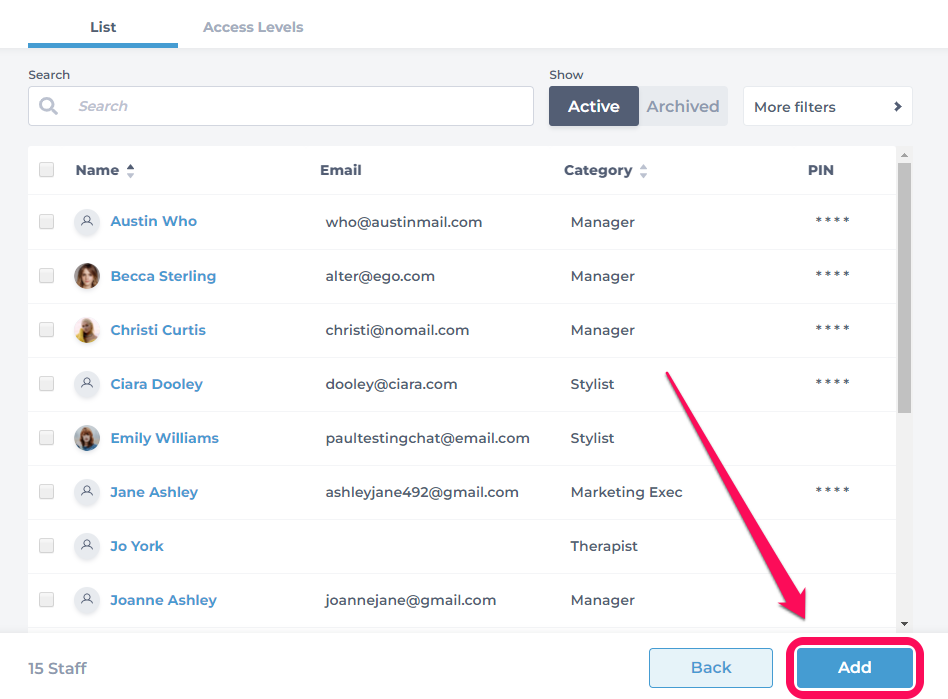 After clicking Add, you will be brought to the Details screen. Here you can add the staff member's general information.
There are some Required fields that must be filled one, one of which is assigning an Access Level to a staff member. If you haven't set up your access levels yet, check out this guide to find out how.
When you're finished adding information to the Details screen, use the sidebar options (see screenshot below) to configure:
the Settings for this staff member, where you can do things like:
Add Notes about the staff member (for internal use)
Add their business details if they are Self Employed
Set the staff member up for Online Video Consultations.
Note: For a full guide to setting up Online Video Consultations, click here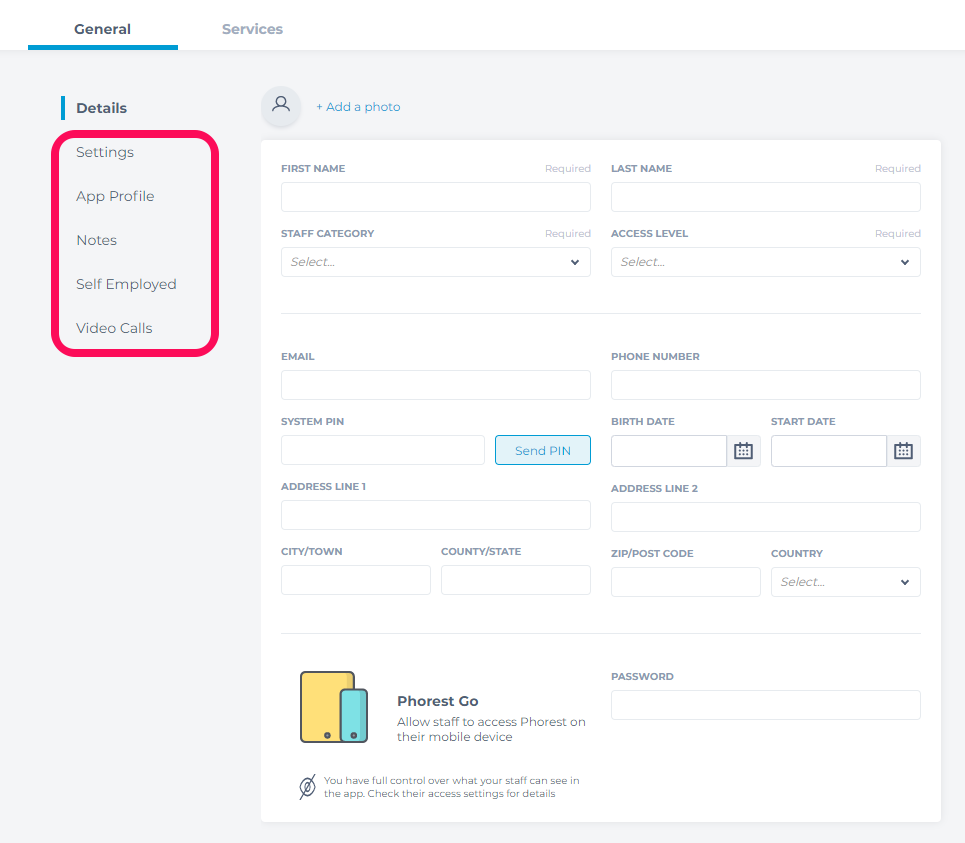 You will need to make sure to set a PIN code in the System Pin field, in order for the staff member to be able to log into the Desktop version of Phorest. If they require Phorest Go mobile access, whatever you set in the Email and Password field will be used as their login on Phorest Go.
Assigning Services to a Staff Member
Once you are happy with the information added, click the Services tab at the top of the screen followed by Set Services to choose which services this staff member can be booked for.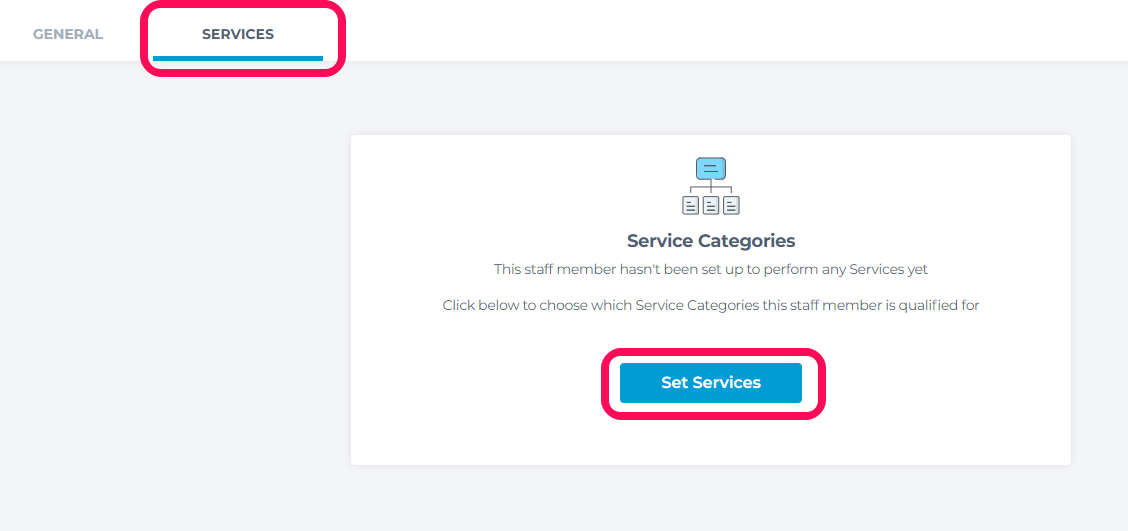 This will open a list of all your Service Categories. You can select All if this staff member is bookable for every service or manually select which service categories the staff member performs.
Note: If the Staff Member/user you are adding does not perform any Services (e.g. your Front Desk team, your Accountant, etc.), then you can skip clicking the Set Services button. Go back to General and click Save.
If this staff member performs the exact same services as another staff member, you can use the Copy From dropdown menu to select another staff member to copy from.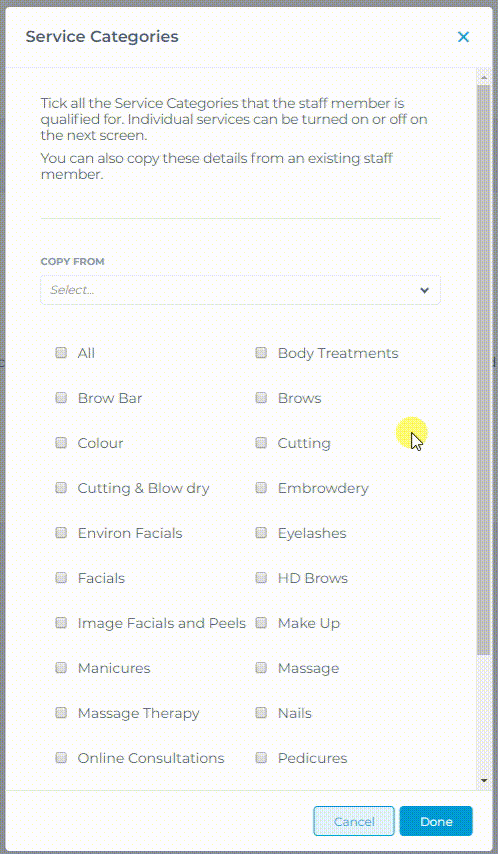 If the staff member only performs some of the Services within a Category, you can individually set some of the Services to No to make sure the staff member isn't booked for those services. Once you're happy with your selection, click Save.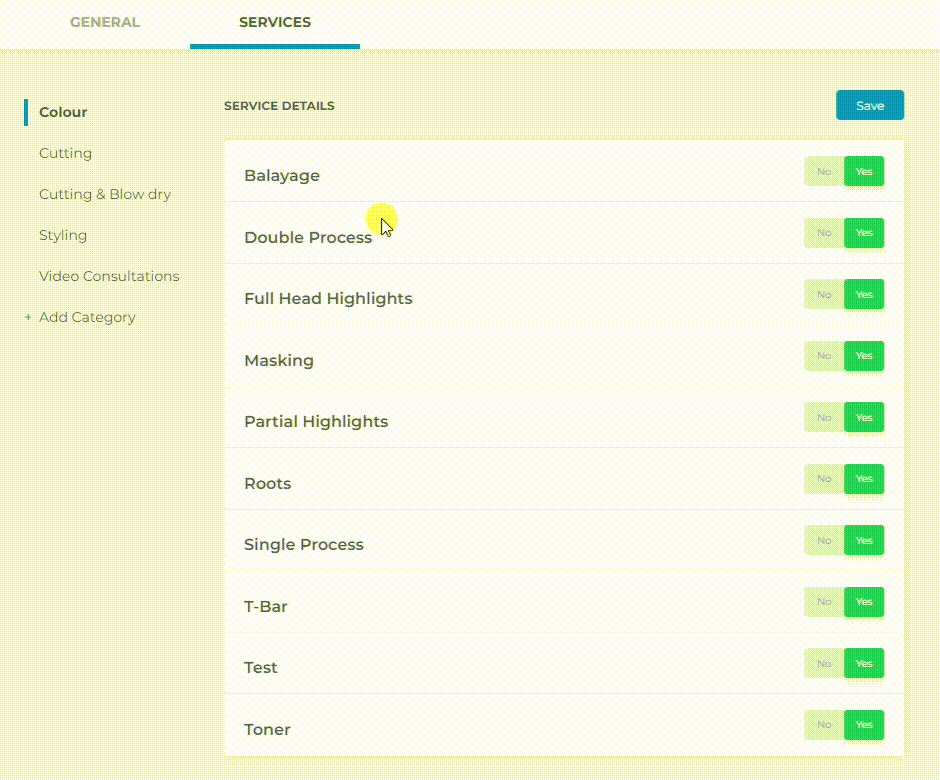 If you have Online Booking set up but don't want this staff member to be booked online, click here.