This will show you how to create a Special Offer of services.
Creating Your Special Offer
Go to Manager > Special Offers, and click Add to begin creating your Special Offer.
Begin by adding the first Service you wish to have in your Special Offer. You can type the Service name into the search, or click the magnifying glass 

 to select from your service list.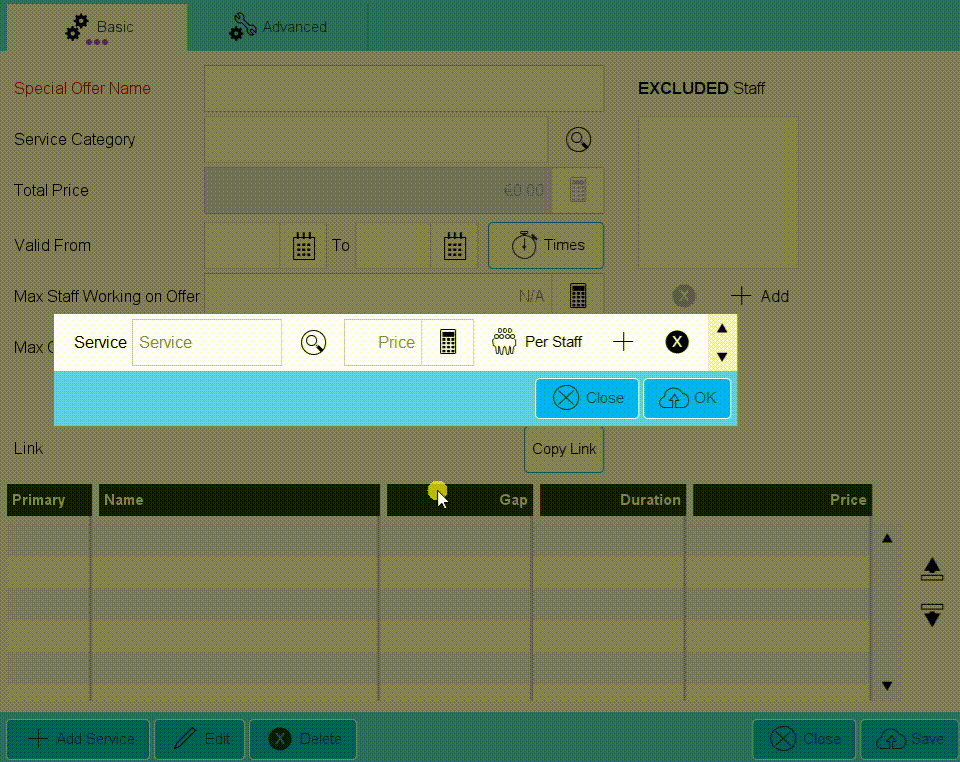 You can enter the Price for this service in the offer on this screen and click OK to add it, or just click OK and you can update the final offer price later.
---
Adding More Services to your Special Offer
If you wish to add more services to the offer, click Add Service again, and repeat the process above.

---
Adding a Choice of Services
If you wish to let clients choose between different services, click Add Service, and then click the 

  button to begin creating choices.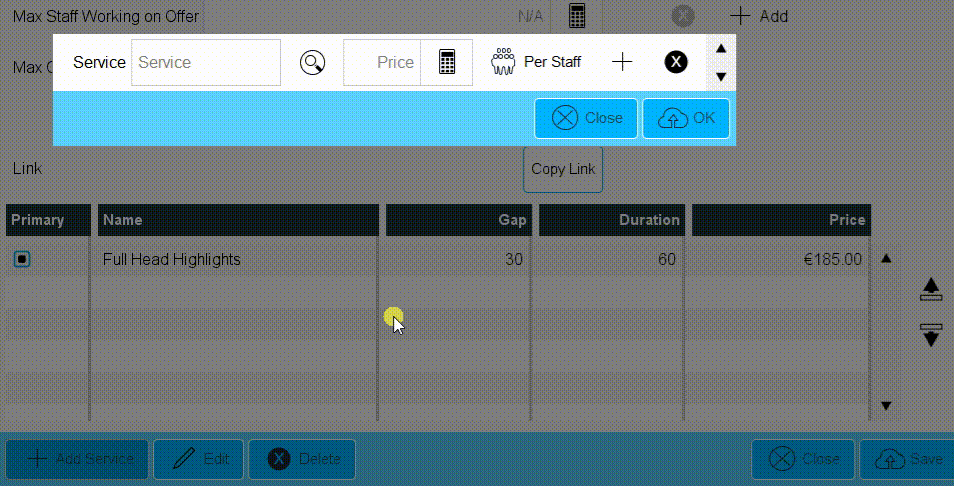 You can click the 

  as many times as you like in order to allow for more choice in services.
If your Special Offer will be bookable online, here's how the choices will look:

---
Primary Service Checkbox
The Primary checkbox decides which staff members should be listed in the staff choice dropdown list when booking the Special Offer online, and it also has an effect on a client's Preferred Staff Member.
Check out this guide for more information on the Primary service checkbox.
---
Adding Staff Price Levels to your Offer
You can add price levels to your offer, meaning the price will change depending on which staff member the offer is booked with.
To do this, click the Per Staff button when adding your service, then set your prices as shown below.

---
Giving your Special Offer a Name
Give your Special Offer a name. This is the name that will be displayed on your Appointments calendar, and when clients go to book online.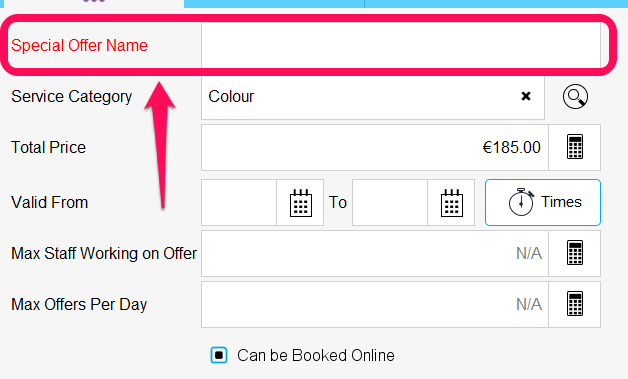 While you're adding a name, you can also choose which Service Category the special offer should be displayed under. By default, this will automatically select the service category relating to the first Service you added, but you can select whatever category you prefer.
---
Excluding Specific Staff from Special Offer
If you don't want this offer to be booked with particular staff members, you can exclude them by clicking +Add under the EXCLUDED Staff section.

If it usually isn't possible to book the services in your offer with particular staff members, they will automatically already be excluded and you don't need to add them here.
---
Choosing If the Offer Can Be Booked Online
You can set whether or not this Special Offer should be bookable online, using the Can be Booked Online checkbox. If the box is checked then it can be booked online.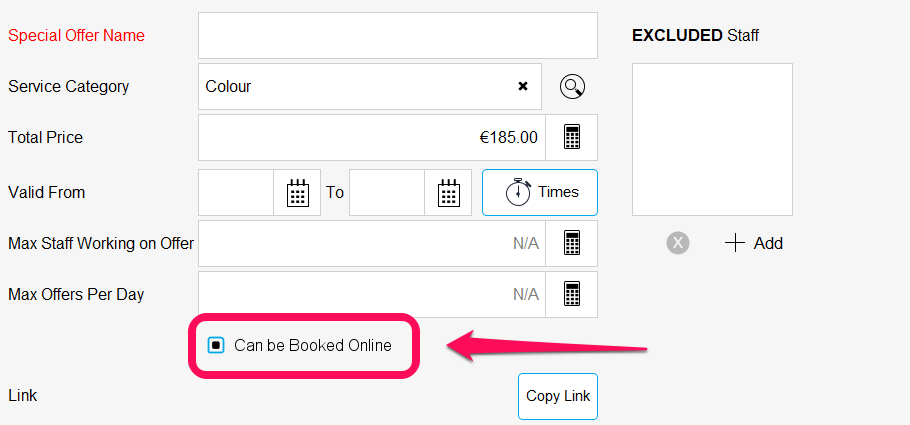 ---
Limiting the Special Offer to Specific Days and/or Times
You can limit the offer to only be booked on particular days and/or at particular times of the day. To do this, click Times and set the days and/or times.
Setting this will mean that appointments can only come into your calendar on the days/times specified, e.g. if I set the Special Offer to only be booked on Mondays, then clients will only ever get timeslot availability for Mondays.

---
Creating an Offer for Group Bookings/Multiple Clients
To create an offer for group bookings, click the Advanced tab while creating your Special Offer, then enter the number of clients that should be booked for this offer.
Important to note: This will automatically multiply the number of services that are booked, so you don't need to add the same service to your offer multiple times. However, this will not automatically adjust the price of the offer, meaning the prices you set when creating the offer should be the total price for the full group booking.