How to opt in and out of marketing texts and emails to comply with GDPR
Note: You should receive consent from your client before opting them in to receive marketing messages.
Video: Opting in Clients to Receive SMS & Email
---
Step-by-Step Guide
Marketing Consent for a Newly Added Client
Once a new client is added to the system, a prompt will appear to get marketing consent. 
Not now: Ask the client next time to make a choice of opt-in/opt-out
Opt-Out: Opt the client out of SMS and email marketing
Opt-In: Opt the client into SMS and email marketing
Click the drop-down to choose the client's preference.
---
Marketing Consent on the Client Card
You can update a client's marketing consent directly on their client card. To do this, Go to Clients > search for and double-click on a client to open their client card.
Here you'll see two checkboxes in the Client card for consent. Check the boxes to update the client's preferred contact method, then click Save.
If you have recently been updated to the new Clients screen, you will find this option in a client's profile under Basic Information > Notifications.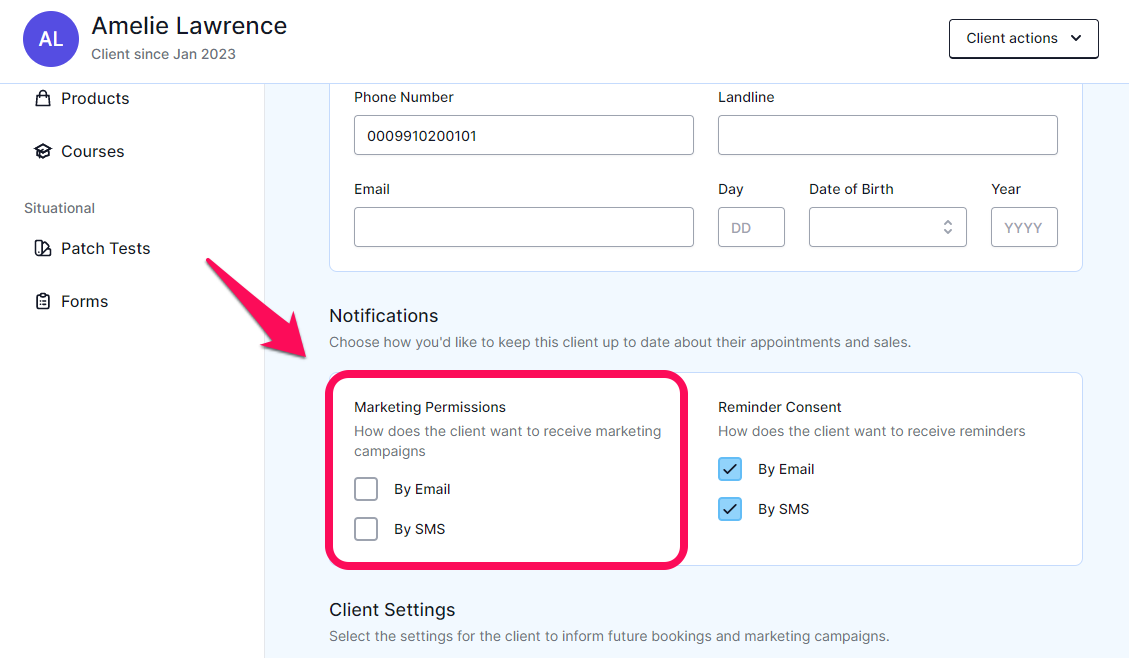 ---
Opting Out
All marketing messages you send will automatically include an option for the client to update their contact preferences, so your clients will have the option to unsubscribe from any marketing SMS or emails that you send if they want to.