This article will give an overview of the Phorest Academy online learning portal
'Phorest Academy - your one-stop Education shop designed for busy salon professionals!'
Learning a new system can be tricky and take time. Finding availability to sit with an expert can be frustrating to arrange. Getting up to speed with new systems should blend seamlessly into your day-to-day activities — allowing you to learn what you need when you need it.
Introducing Phorest Academy - the learning portal that meets the demands of busy salon professionals. 
Online, on-demand, and on-the-go training for all salons
Phorest Academy entails short, interactive, and feature specific courses covering your Phorest essentials.
Quickly get your team and business up to speed with using Phorest. 
Learn when you are ready; Phorest Academy offers online and on-demand training to seamlessly blend into your daily schedule. 
Don't get left behind, keep your business thriving with our regularly added and up-to-date Phorest 'best practice' courses. 
The more you know, the more you grow! Scale your business with our bite-sized feature specific courses.
Learn from anywhere at any time - access the Academy directly within your Phorest system, from your email or even via the downloadable app.
Interactive practice systems (each course offers practice scenarios in a safe Phorest environment - great for getting new staff up to speed, confidently!)
The more you learn, the more you earn! Gain points, badges, and certificates for every course you complete
Education Never Sleeps - Phorest Academy can be accessed anywhere, at any time
In-Phorest: With pins enabled in your system, each member of your team can seamlessly log in and out of their unique account for a personalized learning journey.

Go to Manager > Training > Phorest Academy.

Online/Web: You can log into Phorest Academy from any desktop, laptop, or portable device via a web browser. Use this link here: http://phorestacademy.com/  

You may need to click 'Forgotten Password' to set up a new one. The Username is the email in your Phorest Staff Profile


On-the-Go: Phorest Academy can be accessed on any portable device by downloading the 'SAP Litmos Training' app here. 

For the login page domain, enter 

phorest-education followed by your email and password - you may need to set your password up using the web browser link first.
As a result, each member of your team will have access to Phorest Academy ensuring they understand the best practices behind using Phorest in your salon.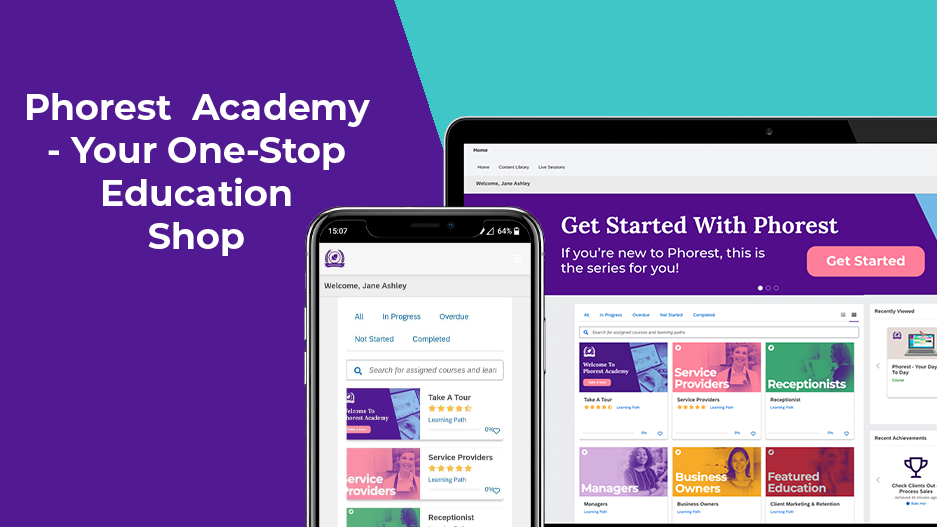 Note: While your team can enrol in any of our free Phorest Academy courses, you still control which areas of your system they can access using 'Pins'.
Get Set Up: Add your staff's email to their Staff Profile to create their Phorest Academy account. Any questions - please send an email to phorestacademy@phorest.com.
---
Access Phorest Academy Online, On-demand & On-the-go: